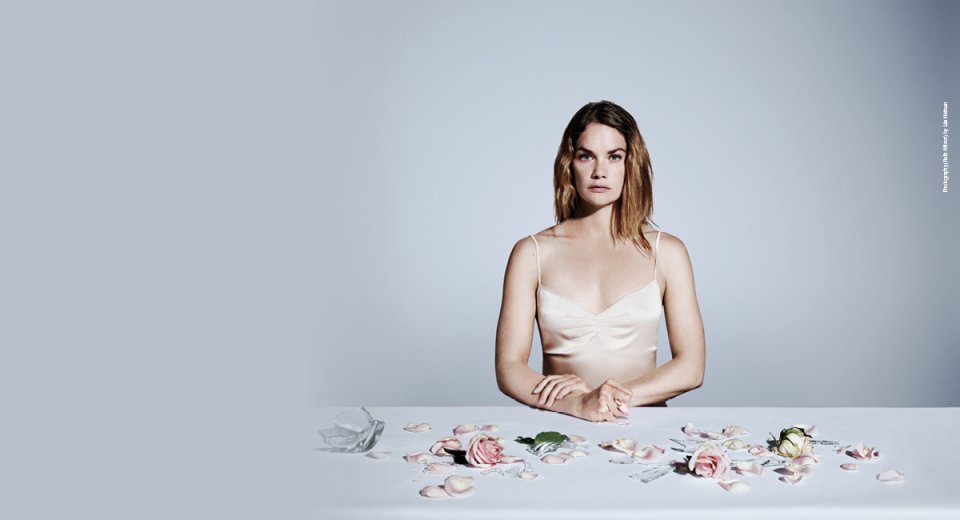 Ruth Wilson as Hedda
My colleagues among the London critics are divided by Ivo van Hove's new National Theatre production of Hedda Gabler, in an un-gimmicky, plain new version by Patrick Marber – except that they all agree in their high praise of Ruth Wilson's performance in the title role. In fact, the cast is uniformly excellent, but this is Hedda's show.
When I first read Hedda Gabler at school, I'm sure I didn't get it at all, and thought Ibsen's 1891 heroine was meant to be a philosophical egoist like Howard Roark in Ayn Rand's The Fountainhead (my own late-adolescent obsession). Now that I'm senior enough to have seen a good many productions, I think that my juvenile musings might have had a tiny grain of sense in them. At least, that reading shields the character from the accusation of being evil (as claims her academic husband, Tesler, played with a full-on American accent by Kyle Soller); perverse (as the blackmailing Judge Brack, a tall, lascivious Rafe Spall thinks); an unbearable tease (as her ex-, Lovborg, played with a gorgeous Byronic profile by Chukwudi Iwuji, implies); or as a control freak who has lost all power (as Ruth Wilson's Hedda says explicitly).
To this catalogue of flaws too gross to be tragic, we have to add that of the title of Olivia Laing's NT programme essay, 'Nasty Women,' of whom Hedda is one of literature's prime examples. Laing rates her as 'repulsive,' 'petty,' a 'drawing-room nihilist, a post-punk princess,' 'too ravenous and angular for the world in which she finds herself.' But I wonder if Ivo van Hove is not, as well, thinking of Coleridge's view of Iago as an unmotivated evil character –  more like Melville's Claggart than like Flaubert's Emma Bovary? What explains Hedda leading – forcing – Lovborg to suicide with her father's second pistol? She says her concern is that Lovborg's suicide should be 'beautiful.' How is it possible to urge someone else to destroy himself as an aesthetic act? What's more, Hedda bullies Lovborg into killing himself. To say Hedda is amoral is a lunatic understatement.
This effective modern-dress production's too-expensive-for-the-Tesler-budget loft-like flat is designed and lit by Jan Versweyveld. I stared at Hedda, costumed permanently in her negligée, and thought: if only there was any indication that she'd ever read anything at all, I'd say she'd been reading too much Sartre, Gide and Camus. Advanced as Existentialism was for 1891, now, more than a century later, Hedda yearns for herself – and others – to commit actes gratuits, to demonstrate that they are free beings by performing completely unmotivated actions. Drama queens that they were, the French Existentialist writers usually conceived these 'un-caused,' freely chosen actions as being either murder or suicide, seldom anything so simple as theft or incurring a parking fine.
Ruth Wilson's Hedda is definitely the spoiled child of privilege, and this wilfulness complements her upbringing perfectly. Is her privileging of the aesthetic over the ethical a reflection of her father's aristocratic position? Perhaps.
The puzzle is that Hedda seems to be engaged with momentous philosophical issues without having been educated. In fact, there's little evidence in the play that she is capable of thinking much at all, let alone deeply.  She feels, rather than thinks. Most of what she feels is suffering. But why should we care? Apart from her physical beauty, what can we find attractive or sympathetic about this (literally) vicious character?
Okay, we know Ibsen generally thought men bore a lot of blame for women turning out this way; but despite what at least one silly critic has said about this production, it's not misogynistic. It's not a comment on all women, or on gender. It's a portrait of one individual, particular woman, which is exactly why Ruth Wilson is so good: she presents us with a full, if warped human being; not a very intelligible person (we're still stumped, as we're meant to be, by her intentions); and very much not a nice or agreeable member of our species. This Hedda is a horror: the modern dress and the songs – Joni Mitchell's 'Blue' and Jeff Buckley covering Leonard Cohen's 'Hallelujah' – make it a bit easier for our contemporary sensibilities not to think all the abnormal pathology we are witnessing is either a case study, or confined entirely to Hedda. Judge Brack is a snake; and poor Lovborg a recovering addict, whom it is all too easy to goad into drinking again. Is the Marber/van Hove production definitive, then?
I looked up my last review of a production of Hedda, the Old Vic's 2012 version by Brian Friel. It gave the male roles unusual prominence, which was interesting, but I now think wrong. Hedda Gabler is a Gorgon, a Medusa, a Lamia. Not a victim, but a perpetrator.