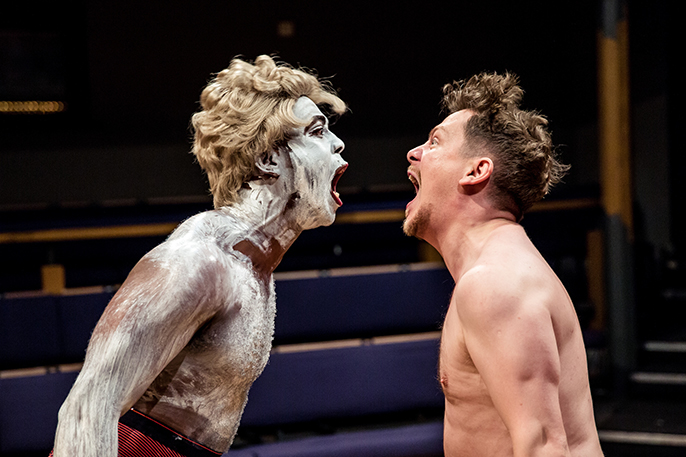 There are knives and flames and even a tomahawk in An Octoroon. But the most hazardous, incendiary objects are three small pots of make-up. Branden Jacobs-Jenkins' delirious date with an antebellum melodrama from 1859 brings the theatrical politics of two ages into collision. It's about finding the frisson in antiquated material – and it turns out there's no quicker way to do that than a thick slather of facepaint.
Dion Boucicault's original play pulls the vicious racial politics of the American south into the livid emotional politics of stage melodrama. We may be primed to snigger at its sensationalist plotting and florid rhetoric, but this was a contemporary play on contemporary ills. Zoe, an octoroon (a person with one-eighth black ancestry) is adored by a young gent, a grasping villain and a hapless bystander on a failing slave-owning estate in Louisiana. Her precisely ambiguous status provokes a plot about change and stasis, sacrifice and self-interest. I reread it this week, and hoo boy, encountered the shock of the old. Its register is breathlessly offensive – you'd say unspeakable, but everyone keeps speaking the unconsidered slurs, the hate and self-hate.
The Orange Tree has disinterred plenty of 19th century plays in its time. With An Octoroon it excavates, dissects, reads the eulogy and dances on its grave, all together. Ned Bennett's production, designed by Georgia Lowe, rips up the floorboards and brings all the panache. (I may not find space for the tap-dancing rabbit: so let's just say there's a tap dancing rabbit, share a Donny Darko shiver, and keep going. Oh, except that in his original production, the Irish Boucicault played a native American, while in his original Jacobs-Jenkins played the rabbit. Make of that what you will.)
Slathering on skin
As the play opens BJJ, an avatar of the modern playwright, stands before us in his pants, arguing with his (imaginary, possibly) therapist. He's stuck. To go on, he must go back – back to Boucicault, to his era and his theatre. Trouble is, he tells us, no white actors will appear in his adaptation of The Octoroon, where even the heroes are massively racist. So he must play the white hero and villain himself. He thumps a box of props on stage – including a flat little pot of white facepaint.
How can something so palm-nestlingly unobtrusive be so provocative? Because the history of slathering a new ethnicity on skin is a history of condescension, cruelty and wilful misunderstanding. Blackface lives on in cultural memory (Olivier's varnished Othello; the minstrel's cheerless grin), although it vanished before my theatrical lifetime (except in ballet, always reliably a half-century behind the times).
I have seen whiteface on stage – in Clarke Peters' solo show about Nat King Cole, who was made to white up for television. I remember the distress of it – Peters didn't look like himself, didn't look like anyone. The person beneath the slap was lost. This kind of painted ethnicity isn't a disguise so much as an obliteration.
So it is here. We've seen the superb Ken Nwosu all but naked at the beginning of the play, so when he grabs the pot and angrily swabs great clots of plaster-white make-up over his face, it's a shock. In this intimate space, you try to look him in the eye, clinging to a sense of the person within. Whether he plays the flax-wigged hero (a conflation of Boucicault's ardent gent and decent chum) or twirl-moustachioed villain, he's peering through a bewildering mask.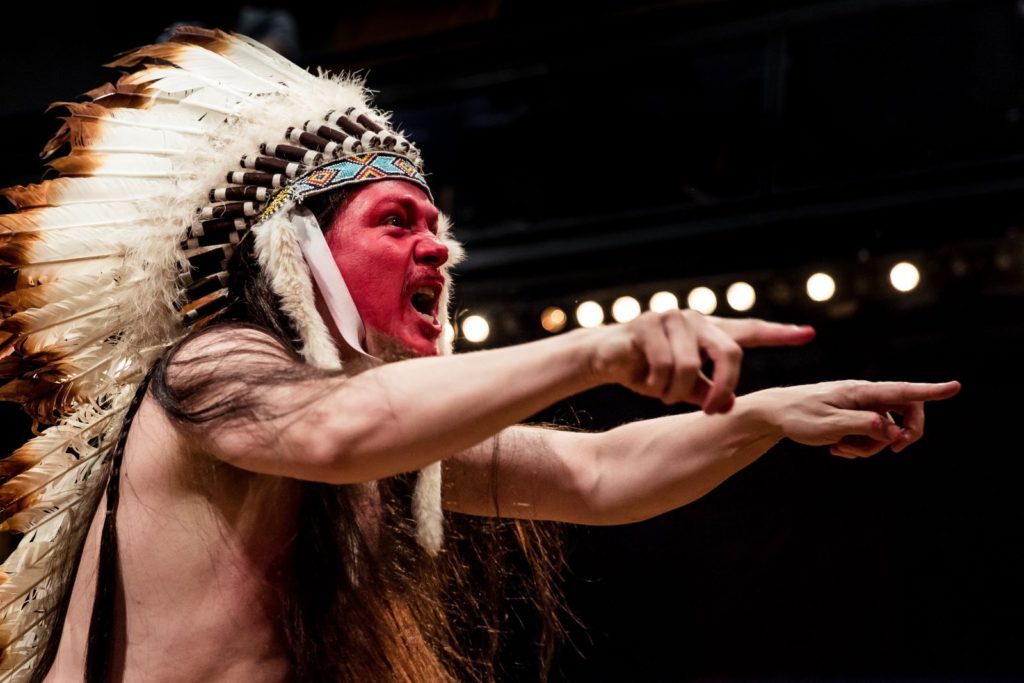 Two other small, flat pots appear, for the other male actors. Alistair Toovey wears blackface (as the play's testy Uncle Tom figure and a merry young boy); Kevin Trainor, initially seen as a braggart Boucicault, slathers his face scarlet to play Boucicault's own original role of a native American (plus, madly, a sunburned auctioneer). Masculinity and ethnicity are dragged from a theatre museum's long-neglected Gallery of Terrible Shame and prodded into unnerving, gamey life, one more time.
The women, interestingly, don't paint. Femininity is already more than enough of a masquerade, I guess. Dora (Celeste Dodwell), white and flirty, is a carousel of tease and ribbon; Boucicault's barely-sketched black servants become contemporary young women (the peerless Vivian Oparah and Emmanuella Cole), full of cynical sass, who happen to find themselves living in slavery. Zoe, caught between racial definitions, is played straight by Iola Evans. For Boucicault, she can be the essence of noble anguish, accessing the ecstatic self-harm of an unhappy heroine: 'our race has at least one virtue – it knows how to suffer!' He gave her an unhappy ending in New York, where there was no flexing miscegenation laws; a happy ending in London. BJJ lets the melodramatic archetypes storm off to death and despair; we end with Oparah and Cole, chatting, and grousing and quietly making plans.The future took its time, but perhaps it's drawing near.
The future takes its time
Theatricality is morality, insists BJJ in a late breakout scene. And there's always a now with which live performance is in dialogue. Boucicault was an early adopter playwright, hurling the newest technology into his plots: quite apart from the exploding steamboat and canoe-chase through the swamp, there's a camera which helps uncover a murderer. Boucicault's is already a very proppy play – letters and deeds also play decisive roles. Jacobs-Jenkins adds a genuinely sobering edge to his sensation scene, using an archive image: a pastoral scene of the gallant south.
The African Americans in Boucicault's original would have all been played by white actors in blackface. Watching a male cast today in several kinds of shudder-slather reminds us that we're still engaged in conversations that have been a long time with us – like BJJ, we can't seem to go on – but that, just maybe, an antiquated theatrical practice can take antiquated social attitudes with them.
Photos of Ken Nwosu and Kevin Trainor (top) and Trainor (below) by The Other Richard
Follow David on Twitter – @mrdavidjays