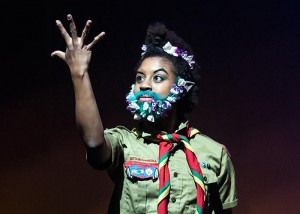 At the Royal Opera House, ethnic diversity is usually more apparent among the ushers than the audience, but Ballet Black attracts a more varied crowd than the swanky home company can manage. This was evident in the ROH's Linbury Theatre last night. And it was a rather good evening – two serious short pieces and, by Arthur Pita, the most deliriously enjoyable dance work of this short year.
But let's stick with the audience for a minute. Lyn Gardner reported yesterday from the latest Devoted & Disgruntled conference, which asked, in some exasperation, 'What are we really going to do about race and diversity in UK theatre?'
This debate seems to recur regularly without solution. Yet London theatres like the Young Vic and the Tricycle, regularly attracting an audience that in some measure reflects the world beyond their doors, programme work by black artists, with black casts, without excessive fuss or anguish. Non-white audiences visit those particular shows, but also others with less apparent pertinence, perhaps because the theatres develop non-tokenist relationships and perform quality work. Watching Ballet Black – a confident company, building audiences for crunchy contemporary ballet, hardly the fluffiest of art forms – also made me wonder if the solution isn't dismayingly simple. Stop talking. Put the work on stage. See if it finds its audience.
What about performers? It has become a commonplace that British actors look to American film and tv to find challenging – or sufficient, even – roles. Marianne Jean-Baptiste, famously disregarded in Britain despite an Oscar nomination for Secrets and Lies, led the exodus. David Harewood, Idris Elba and David Oyelowo followed (it's mostly the gents, for some reason). But these were already established names – are younger, less well-known artists chancing the American dream? I don't doubt there's a problem. The sheer quality of acting in most plays featuring a predominately black British cast is striking – the National's Moon on a Rainbow Shawl or The Amen Corner, for example. Not simply star turns, but a depth of talent down the line. My suspicion (can any casting agent confirm?) is that these productions can cast their first choices more easily – not merely because the work is fulfilling, but because fewer screen opportunities compete for the same actors.
Performance quality never seems an issue for Ballet Black. Formed in 2001 by Cassa Pancho, offering opportunities to black and Asian dancers, it has showcased some blazing talent. The company's women are especially strong right now: Cira Robinson has emerged as one of the country's boldest dancers, while Sayaka Ichikawa and Kanika Carr have pinpoint vivacity.
The choreography has been less reliable, but Pancho's commitment to new commissions (sometimes three or four each year) is impressive. Inconsistency is hardly a unique issue for a repertory company, and Ballet Black's strike rate is certainly far higher than the historically revered Rambert, for example, whose commissions regularly skew towards woeful. Pancho has welcomed some interesting (yes, predominantly white, predominantly male) choreographers: testing Martin Lawrence, alluring Javier de Frutos. But BB haven't quite achieved a full-company hit – until this season, and Arthur Pita's fabulous A Dream Within A Midsummer Night's Dream.
Pita's riff on Shakespeare's forest-sniffing fantasy captures delirium, ridicule and the unthethered libido, all in 35 minutes. Puck, played by Isabela Coracy as a naughty boy scout with a beard of flowers, releases charm-struck lovers into liberating, polymorphous couplings. Severe Handel gives way to silken Eartha Kitt and Nina Simone, and the movement offers rapturous curls and delicious jellyfish shivers. Pita even ponders how Robinson's besotted Titania can make a mule move – with a faceful of fairy dust, any donkey seems a dreamboat. Salvador Dalì wanders through it all, in search of a missing moustache, because surrealism.
It's a terrific piece (companies beyond the UK should clamour for it), splendidly performed. It finds an audience too rarely beckoned by ballet. With luck and a marketing strategy they'll come again. We can debate all we want, but nothing is as powerful as actually putting work by black artists onstage. Yes, theatres must do more to reach out to those artists and their potential audiences. Another of Gardner's reports on inclusivity quotes Russell Willis Taylor of National Arts Strategies insisting, 'we don't get to decide the value of the work that we do, other people do.' Build it and they will – or might just – come may seem a fragile inclusivity policy but can't companies try it with more consistency? It's about bloody time.
Pictured top: Isabela Coracy in A Dream Within a Midsummer Night's Dream Photo: Emma Kauldhar via Dance Europe
Follow David on Twitter: @mrdavidjays