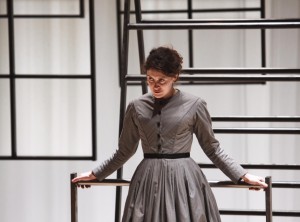 To enjoy a classic novel, go to the theatre. That might be the lesson of two audacious recent British stagings. Headlong's multimedia version of George Orwell's 1984 has come to London's Almeida Theatre, while a two-part adaptation of Jane Eyre in Bristol captures Charlotte Brontë's tumultuous imaginative landscape.
They and other adaptations (including long-running shows like War Horse, Matilda and The Curious Incident of the Dog in the Night Time) have pitted the Guardian's theatre critics against each other – Michael Billington enjoyed 1984 but worried that 'the theatre is rapidly becoming a place of dramatisations rather than original drama,' while Lyn Gardner praised Jane Eyre as 'a page-to-stage theatre experience that leaves the original book far behind.'
We're not naive – such adaptations bustle forth because they are familiar titles with popular appeal. It's the marquee classics, the ones that make the movies and are cornerstones of the curriculum, that are tapped for stage success.
But, marketing aside, there are other incentives for audiences and theatre-makers. The florid heyday of the novel, from the mid-18th to mid-20th centuries, contains skimpy pickings in British drama. The censored London stage offered many pleasures and provocations, but playwrights inevitably retracted their claws. I enjoy the sheer theatrical relish of Boucicault, Pinero and Robertson, but can't pretend that they deliver the social or psychological force of Brontë, Austen or Dickens. Move forward fifty years, and if you crave Orwell's swingeing analysis, it's no good asking Coward, Rattigan or even J B Priestley.
We look to European drama for full-throated, brain-whirring satisfactions. Shaw and Wilde are good and Granville Barker better, but they rarely scorch like Ibsen or Strindberg. Brecht and Lorca similarly go where few Brits could dare.
Adaptations, by contrast, can blow the past wide open. Few theatrical heroines of any era think and feel as Jane Eyre does – endlessly indignant, scathingly self-doubting, a mouse in the shadows who dares to want and want, without conditions. A production as ambitious as Sally Cookson's in Bristol may make people think again about the novel and its period. The production's thoughtful programme compiles interviews with members of the creative team. Madeleine Worrall (the fiercely withheld Jane, pictured top by Simon Annand) describes the visual keys used to unlock Brontë's passionate landscape – including John Martin's apocalyptic paintings and the mysterious scenarios of Paula Rego. 'I think what puts a lot of people off Jane Eyre,' she argues, 'is a) they did it at school and it was boring, and b) there are boring portraits of Victorian women on the covers!'
New plays can, of course, open a window on the past. Sarah Ruhl's teasing In the next room portrays 19th-century New Yorkers waiting for Freud to supply a language to discuss their discontents: everything that Edith Wharton and Henry James leave quivering in subtext. Equally, poor stage adaptations are as variable as any other form of theatre. London's Vault Festival last month offered an excruciating bro-struck version of Hunter S Thompson's Fear and Loathing in Las Vegas, proving that prose which swaggers on the page can fall dead from the lips. In the studio next door, but theatrically from another planet, was a production based on Ian McEwan's The Cement Garden. Like 1984 and Jane Eyre it built tingling atmosphere with sound and physicality as much as text.
Cookson's Jane Eyre is no pastiche. With its galloping physicality and eclectic music (everything from folk to Gnarls Barkley's 'Crazy', stripped to the bone) it ventures into a Victorian era we don't get in our dramatic literature – livid with longing, a superb mess of anger and hope and independence. In a fully engaged adaptation, the theatre and the past it explores can feel, as Brontë herself hoped her novel would, 'wild, wonderful and thrilling.'
Follow David at @mrdavidjays