ListenGood: May 2009 Archives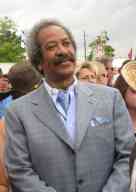 Hearing pianist Allen Toussaint lead his "Bright Mississippi" band at the Village Vanguard last week, I was taken aback by what I suppose I already knew: Completely aside from his abilities as a hit-making New Orleans songwriter and an entertaining frontman, Toussaint is a straight-up piano player to be reckoned with, and a jazz musician to the bone.
I included Toussaint's fine new Nonesuch CD, The Bright Mississippi, in my latest CD roundup for The Wall Street Journal. Toussaint's Vanguard show featured the same band, save for trumpeter Christian Scott subbing for Nicholas Payton. Yet it offered pleasures well beyond what I described in my brief review, and far deeper than the album's excellent but sometimes precious expression.
Wednesday's late set was wondrous. I can think of only two other musicians I've heard conjure such a mixture of musicianship and intimacy at the Vanguard: Bebo Valdés and Shirley Horn.
Ok, Terri persuaded me to begin blogging again in earnest. (But I'm not so sure about pitch to get on Facebook for real.) In any case, here I am again, restarting what I hope will be a daily ritual. Look out: ListenGood is back.
The annual Jazz & Heritage Festival in New Orleans is always more than you can possibly take in, and not the half of it-- there's just so much happening in NOLA musically and in general. Here's my account (or what I could fit in, anyway) of the goings on within and outside the Fair Grounds, in this week's Village Voice. 
And here's my pantheon of jazzfest delicacies (and the number consumed):
Soft-shellcrab po'boy (3)
cochon de lait po'boy (2)
crawfish enchilada     (1)
Creole file gumbo (2)
barbecued ribs, white beans, and rice (3)
peach cobbler (1 each day, except for the day I had 2)
mango freeze (1 each day)
Best overheard comment (props to Katherine):
"Between Bonerama and The Johnson Extension, I'm going to need to take a cold shower."
(And a shout out to Deborah and Ken, for putting me up, and putting up with me.)
And I swear it this time: I'm going to learn how to post my photos, and share my shots from this trip. Then, I'm going to move slowly back, archiving the photos I've taken in NOLA during the past three years.