toussaint shines bright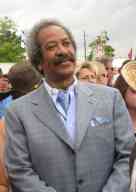 Hearing pianist Allen Toussaint lead his "Bright Mississippi" band at the Village Vanguard last week, I was taken aback by what I suppose I already knew: Completely aside from his abilities as a hit-making New Orleans songwriter and an entertaining frontman, Toussaint is a straight-up piano player to be reckoned with, and a jazz musician to the bone.
I included Toussaint's fine new Nonesuch CD, The Bright Mississippi, in my latest CD roundup for The Wall Street Journal. Toussaint's Vanguard show featured the same band, save for trumpeter Christian Scott subbing for Nicholas Payton. Yet it offered pleasures well beyond what I described in my brief review, and far deeper than the album's excellent but sometimes precious expression.
Wednesday's late set was wondrous. I can think of only two other musicians I've heard conjure such a mixture of musicianship and intimacy at the Vanguard: Bebo Valdés and Shirley Horn.
Toussaint stuck mostly to the album's repertoire, tracing a line from Jelly Roll Morton to Thelonious Monk. As on the CD, drummer Jay Bellerose and bassist David Piltch provided solid yet spare accompaniment (though Piltch did distinguish himself with pithy solos on two tunes). The rhythms issued quite clearly from Toussaint's two hands, all else flowing in its wake. Christian Scott's playing may lack the crispness of Payton's on the CD and his solos were not as cleverly constructed, yet he displayed a different sort of mastery: Picking up on Toussaint's estimable powers of restraint, he played with economy and sweetness, softly, at times down to a whisper. Byron flashed his customary subversive intent and precise intonation on clarinet. His harmonies grew progressively woollier as the night wore on, and Toussaint answered nearly every one, each out-there idea somehow tucked neatly inside a chord. And Byron shone brightest playing tenor saxophone: His elegant, inventive reading the Ellington-Strayhorn tune "Day Dream" was a showstopper. Toussaint and Marc Ribot, on acoustic guitar, sounded as if completing each other's thoughts during a similarly stunning version of another Ellington tune, "Solitude," played in duet.
Near the set's end, Toussaint took a long, somewhat absurd solo, during which he strung together snatches of jazz themes, classical pieces, and novelty songs ("Beer Barrel Polka" figured in). He made sense of it not just due to his command of the piano but also through an uncanny ability to maneuver seemingly impossible segues of tempo and feel into elegant gestures. The swirling improvisation that followed, dotted with Asian-sounding intervals, settled gently into "Southern Nights," a song of Toussaint's made famous by Glen Campbell. Far from Campbell's foot-stomping version, this one spilled out with grace, highlighting the way in which the lyric weaves in and out of the song's meter. It was the only time Toussaint sang during the set (songwriter Joe Henry, who produced "The Bright Mississippi" had stepped up to the mic earlier for "St. James Infirmary'). When Toussaint got to the part about  Southern trees "whistling tunes that you know and love so," it sounded like that's what he'd been doing all night.
PS That picture of Toussaint is one I took at last year's Jazz & Heritage Festival, while he listened to Robert Plant and Alison Krauss perform his "Fortune Teller." It was a hot, muggy day, leaving most of us soggy in our T-shirts--but not Toussaint, who was nonplussed, ascot, pocket square and all.