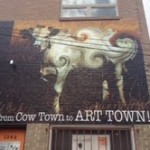 If I have to listen to another person in this city apologize for the cultural paucity of "this dusty old cow town" and claim that Denver's art scene is "worthless compared with London/San Francisco/New York/Paris/Los Angeles etc" I think I am going to lose my mind.
There's enough interesting stuff going on  to keep people of all kinds of cultural tastes – from the arch conservative to the uber experimental — occupied many times over every night of the week.
And like any other city with a vibrant arts scene, the ratio of ill-conceived to inspired work is roughly the same wherever you go. It's not that art in New York is "better" than other places necessarily, it's just that there's more of it and it has a greater reputation globally so it attracts more eyeballs and national/international attention from the artistic community and the public at large.
In order for Denver to attract more attention, the first thing that needs to happen is for the city's arts people to stop apologizing for themselves.
Here are some of the interesting cultural happenings I've experienced here (and in nearby Boulder) over the past week or so:
– The baritone clarinet-led experimental jazz outfit, Unfold Ordinary Mind, at Dazzle. I agree with band leader Ben Goldberg: the baritone clarinet is indeed "the king of instruments."
– Creede theatre company's Denver tour of "Around the World in 80 Days". It blows my mind that the tiny, isolated mountain town of Creede has such a creative theatre company run by two such hip young chicks.
– The Boulder International Fringe Festival. Highlights included random ecstatic dance sessions and dynamite Chicago-based performer Kelsie Huff's "Bruiser."
– Denver School of the Arts' production of "Beauty and the Beast." This public high school put on a production of Disney's musical version of the fairytale complete with massive, pristinely staged and costumed, full-on production numbers. There must have been 150 kids on stage for "Be My Guest" all moving and dancing and singing at once.
– St Martin's Chamber Choir "Conductor's Choice" concert. A conservative group with a beautiful sound and a passion for music by famous international composers as well as contemporary local ones.
– Underground Music Showcase  party at the Museum of Outdoor Arts. Denver's premiere indie music organization featured a fantastic New Order cover band amid one of Denver's most eclectic contemporary art institutions. I'm going to be spending more time in Englewood.
– Armitage Gone! Dance's "Fables on Global Warming" at CU Boulder's Macky Auditorium. The revered, New York-based company's playful approach to looking at ancient tales through an environmental lens seems like the perfect prism through which to teach children to take good care of our planet.
OK. That's about it for now. Off to Curious Theatre tonight.