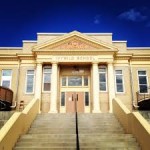 It's easy — and lazy — to think that all of the cultural stuff worth mentioning in Colorado takes place in Denver and nearby Boulder.
Certainly, I've been running around these cities over the past couple of overly busy and therefore sadly blogless weeks experiencing arts happenings as diverse as Eve Ensler's Body of Work, Wonderbound's A Gothic Folktale, The Catamounts' Failure a Love Story, the Beyond Blue exhibition of 25 years of Denver public art, The Narrators' monthly storytelling session and so on and so on and so on.
Biggest surprise of all, though: Colorado Springs. There's more to that city's cultural offerings than fundamentalist christian rock concerts and military parades.
The symphony orchestra and Theatreworks theatre company are among two organizations that produce quality work. And last week, when I visited Colorado Springs for an evening, I was very much taken with the Ivywild School.
Ivywild School is an old elementary school in an otherwise suburban part of town that was recently turned into a cultural hotspot. The imposing brick building now hosts art classes and workshops, live music events and many purveyors of artisanal foods and drinks. Where once there were classrooms and a gym, there's now a brewery, an upscale greengrocer and more cheese, baked goods and cured meat sellers than you can throw blackboard chalk at.
At midnight on a Wednesday, the place was still hopping. I can't think of a similar place in Denver, or in San Francisco for that mat
I won't be surprised if Denver- and Boulder-ites start choosing to spend their evenings in Colorado Springs rather than staying closer to home.