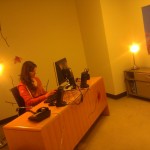 When I was a rookie arts journalist, Ray Sokolov, the then Arts & Leisure section editor of The Wall Street Journal, jokingly complained to me about how weird it feels being an arts editor in a busy newsroom during a major event, when everyone but he is rushing around covering a disaster, war or other breaking news of serious import, while he sits there overseeing the coverage of things like dining out and the opera. "No one ever asks me my opinion about Iraq," I remember Ray grumbling as I chatted with him about an assignment he was commissioning me to do on an ice dance performance at the Lincoln Center.
The exchange with Sokolov came rushing back this week as I sat in my new office at Colorado Public Radio while all hell broke loose with torrential rains and flooding across the state.
I worked the cultural angle a little, calling heritage preservation emergency response managers and some of the arts organizations in the worst-hit areas to obtain intelligence about water-logged artworks and canceled events and the like. But there wasn't a whole lot doing. When people are bailing out water from their basements with buckets and being air-lifted out of mountain towns, the fate of things like library books, dance performances and paintings isn't so much of a priority.
But as with so many of these types of events, the cultural stories eventually emerge. I expect there'll be a few interesting ones in the coming weeks. I am, in fact, starting work on a piece about the fate of the town of Lyons, which is a tiny but mighty arts hub. The 2,500-resident community, which is home to at least 50 artists and has grown into a mecca for sculpture, building preservation and music festivals, was one of the worst hit areas this past few days. I'm going to explore how devastation of this size impacts the burgeoning cultural economy of a place like Lyons.