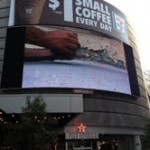 I've been so busy, that I haven't managed to put down a thing in writing about some of the cultural activities that I've been up in and around Denver in a week. And as I look back over the last seven days, it looks like it's been a week of "first time" experiences for me.
1. Frightened Rabbit, Local Natives and The National at Red Rocks: My first Red Rocks concert experience. By the light of a full September moon. The sound for Frightened Rabbit (the band I most wanted to see) was terrible. But otherwise a grand experience. I wonder if Red Rocks might consider improving its concessions?
2. Dr Richard Kogan's lecture about George Gershwin at The CU Denver Anchutz Medical campus: I did my first live interview for CPR Classical with psychiatrist-musician Richard Kogan, a New York-based, Harvard-educated medic and Juilliard-trained pianist. And then I got to hear Kogan's full presentation that evening. Impressed by how young the audience was and by Kogan's brimful brilliant-poignant way of connecting Gershwin's music with his feverish mind.
3. Oh Heck Yeah launch party at The Spire: Brian Corrigan is a young, artsy fellow about town who's getting quite a bit of grant money and a growing amount of of public attention around this town for coming up with "Oh Heck Yeah" — an interactive arcade in downtown Denver scheduled for next Summer. The idea is to engage passersby with video games, installations and other interesting digital technology-meets-art fare. The launch, at the top of one of Denver's luxury high-rise apartment buildings, attracted a crowd of Denver arts mavens. There's a Kickstarter campaign afoot. I remain curious to see how things evolve.
4. Denver Digerati Flash Friday: Ivar Zeile, the owner of Plus Gallery, runs a monthly outdoor "salon" throughout the summer showcasing a group of interesting video and sound pieces. I caught the final show of the 2013 season. The artworks, by local, national and international artists, are projected on a giant billboard in downtown Denver. The photo at the top was snapped in the middle of an installation called "The Boot", by Denver artist Justin Beard. The installations on Friday were all very different.
5. Third Friday on Santa Fe: The First Friday Art Walk in Denver's Santa Fe arts district is much about the partying at this point. So people who are actually interested in viewing art and talking to artists and curators have taken to walking around the district on the third friday of each month, when the scene is more subdued and "grown up." Many of the galleries were open on Friday and quite busy. But the mood was mellow. I wonder if Third Friday will end up being like First Friday? And if so, what that will mean for Denver's burgeoning gallery scene?
6. Create Denver Expo: This past week, the city of Denver has focused on entrepreneurism. Lots of tech-focused conferences etc. There was of course a nod to the arts. I attended the first part of the all-day cultural industries-focused symposium organized by Denver Arts & Venues. Colleen Keegan from Creative Capital gave a rousing keynote speech in front of around 200 people at The McNichols Building and then there were breakout sessions. Her words, as well as the session I attended by business consultant Bob Blenn reminded me that I need to sit down and devote some time to the ol' strategic planning process. With all the upside-down turning of my life in recent months, thinking about this stuff has gotten buried. A good reminder to bring it back front and center of my life.
7. Curious Theatre's production of John Logan's Red at The Denver Art Museum: In conjunction with DAM's Mark Rothko exhibition, the museum invited Denver's premiere contemporary theatre company to re-stage its production of Logan's play about the artist from last season. It was my first experience of Curious Theatre's work. DAM is excellent at seeking out canny partnerships. The company reassembled the crack original cast — Lawrence Hecht as Rothko, and Benjamin Bonenfant as the artist's long-suffering assistant Ken — for this weekend remount.
8. The Austin Lounge Lizards at Swallow Hill Music: I am so thrilled to live in a town that has such a lively roots music scene.  The epicenter of the scene is Swallow Hill. Swallow Hill is the second biggest organization devoted to the folk world after the Old Town in Chicago. I picked an Austin Lounge Lizards concert to make my first trip out to the bright and warm space in South Denver. The group was in fine fettle. I am looking forward to attending more events there and maybe even taking some music classes. I think many artists can learn from the Lizards' way of being deadly serious at the same time as being very funny.
9. In A World at Chez Artiste: My first movie theater experience since moving here. A funny, sweet and thought-provoking film by the amazing young filmmaker Lake Bell. It's a feature film about voice, focusing on the life of an up-and-coming voice-over artist in Hollywood. As someone who's obsessed with voice, I am deeply moved by Bell's critique of the high-pitched, constrained, bland way in which many young, American women speak today ("you sound like a squeaky toy" / "you sound like a sexy baby") and her advocacy of women owning the way they speak.
Phew.