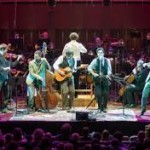 It's quite common these days for orchestras to perform concerts in collaboration with indie rock performers. Classical music organizations consider these kinds of events to be a great way to bring in a younger crowd. For the rock musicians, performing with a symphony creates a certain caché.
It occurred to me not for the first time over the weekend while attending a Colorado Music Festival concert at the warm-sounding Chautauqua Auditorium in Boulder that featured the singer-songwriter Joshua Radin, that these endeavors, though laudable, are probably more satisfying for the indie musician(s) involved than for the orchestral musicians. I've had the same feeling at previous events organized along similar lines, for example at a San Francisco Symphony concert a while back in which Rufus Wainwright performed his settings of Shakespeare sonnets at the piano, accompanied by the "house band."
Radin, an attractive guy in his early 40s with a sweet, soulful voice and a gentle way of strumming a guitar, played a selection of his songs backed up by the orchestra. Some were more interesting than others. I loved the musician's lyrical "Lullaby for Will" but was less enamored of a nurdling song about one night stands.
While Radin chatted with the audience about his life and artistic inspiration and played his music, the orchestra looked utterly bored. The basic issue was that the instrumentalists were underused. Trundling their way through unchallenging arrangements behind an indie rocker wasn't inspiring to these top of the line musicians. It was the same thing at the San Francisco concert mentioned above.
I spoke with a member of the violin section the following evening — I was coincidentally at a dinner party with her. She verified my impression, adding that she had tried her best to look engaged but that it was hard work. She also said that a concert the orchestra had performed recently featuring arrangements of Radiohead songs was much more satisfying for her and her fellow musicians. I can believe it: Not only is Radiohead's material much more musically complex than Radin's sincere-simple songs, but the orchestra also got to play Brahms that night.
I'm not saying that orchestras shouldn't continue to explore interesting collaborations with artists from contrasting walks of musical life. I'm just advocating for more fertile, ballsy music, intriguingly arranged to give the musicians something to chew on. Otherwise, what you end up with is essentially open mike night with a very expensive backup band.
PS It would be remiss of me not to mention the excellent "classically-trained garage band" Time for Three, who also performed with the Colorado Music Festival orchestra on Saturday evening. I couldn't get enough of this group's virtuosic sound and  dynamic energy. When the trio played, the members of the orchestra emerged from their lethargy and the audience went wild. I wish that the trio had performed a little more, and Radin — who appeared at Chautauqua as a "special guest" at Time for Three's behest — a little less. The balance would have been more satisfying.