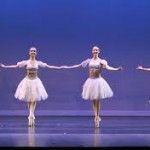 A question raised from the evening I spent with the Colorado Ballet.
The Denver-based company performed a mixed program last night at the Arvada Center Outdoor Amphitheater, which swung between classical pas de deux from Gisele and Don Quixote, and contemporary ballet pieces, including a setting for two dancers of Adele's "Fire to the Rain" by choreographer Sandra Brown and a tango-infused triptych choreographed by Lorita Travaglia to music by Astor Piazzolla.
As I watched the performance, it struck me that ballet companies as a whole are unusual among arts institutions for continuing to revive very old choreography.
Conversely, outside of places like Russia, it's rare to see an opera or a production of a play or musical that uses the blocking and acting style of more than a hundred years ago. Imagine watching a re-staging of a Shakespeare production by Herbert Beerbohm Tree today? Though perhaps interesting from an academic perspective, such an endeavor would appear pretty silly and anachronistic to most contemporary audiences.
Just as often as someone like Mark Morris will come along and create entirely new choreography around The Nutcracker, companies continue rehash the old Marius Petipa and Lev Ivanov steps from the 19th century. The Colorado Ballet certainly isn't alone in resurrecting moves by long dead choreographers like  Petipa (Don Quixote), Jean Coralli & Jules Perrot (Gisele).
Why do ballet companies continue to pay homage to old fashioned dance steps in such an explicit way?