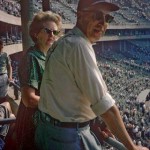 The Clyfford Still Museum in Denver is developing unusual ways to engage its community — ways that stretch the subject matter of the institution as a center devoted to the life and work of a single artist — in somewhat far-fetched but nevertheless lively directions.
For instance, last night, the museum invited members to a baseball game at Coors Field. The reason? Still was a big baseball fan. The photo hear is of the artist attending a game. The museum also has a baseball mitt owned by Still in its collection.
I attended the game, a bout between the Colorado Rockies and the San Francisco Giants. The Museum party consisted of around 30 people. I chatted with a few of the Museum's members at a pre-game reception held at a nearby bar. A love of the artist and of the game drew them out, though as platters of nachos and quesadillas came and went, the talk only occasionally touched on Still and/or baseball.
The mood was high. An older chap with a fine art background, William, even managed to make off with a baseball which fell into his lap somewhere around the top of the fourth inning. When asked by an envious onlooker whether he'd ever sell his prize, William replied that the item would never appear on eBay.
The event got me thinking about how particularly challenging it can be for organizations to engage audiences when their field of inquiry is so narrow. " The idea here is to look at programs that makes the Still museum accessible to many audiences," the museum's public relation's consultant, Regan Petersen, explained in an email. "We are exploring many programs that link to Still's legacy and aiming to share his vision and art with the public."
Still and baseball is a bit of a stretch, as was the case when the museum hosted a fashion show a few weeks ago. I never really thought of the painter as a fashionista. The rationale, then, for setting up a catwalk? According to Petersen, fashion designer Stephanie O, around whose work the show at the museum was created, sees Still as a great source of inspiration.
On the other hand, Still's career as an "anything goes" abstract expressionist provides a  kind of license for the institution to make the most of even the most tangential links to Still's life. After all, beyond the fact that the artist taught for a little while in Boulder and has a nephew living in the region, there's no truly compelling biographical reason for the museum to exist in Denver at all. And yet I'm so glad it's here.
I wonder what they'll think of next? A Clyfford Still knitting circle? Wear Clyfford Still Spectacles Day?