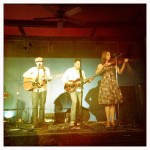 I am taking a slow, four-day roadtrip with my friend Zach Warren to Denver to start my new life with Colorado Public Radio, where I'll be launching and leading the organization's brand new arts bureau.
While en route, I want to briefly mention a quite lovely Americana band that I stumbled across at The Fire Creek Coffee Company and music venue in Flagstaff Arizona last night. (I'm in Santa Fe, New Mexico as I write.) The photo to the left was taken by Zach, who's slightly obsessed with the Hipstamatic app on his iPhone.
The band, Blue Eyed Tomorrow, consists of Ky Brown (guitar, harmonica, banjo, vocals), Robert Tusso (bass, vocals) and Angela Horvath (fiddle, guitar, vocals). For last night's show, BET had a special guest with them on stage who played a mean slide guitar. I wish I had thought to find out his name.
It seemed like BET had never performed the country, folk and folk rock songs with their guest before. The atmosphere seemed a little strained on stage, as the band and their guest worked to synchronize with each other. The musicians all looked very serious up there on stage and mostly engaged with each other rather than with the audience.
Yet I loved the music they played. It was full of pathos and beautiful solos. Both Brown and Horvath have mesmerizing voices. As the set span on, the musicians seemed to relax a little. The set was over way too soon. I hope I manage to catch up with this band again at some point in the future. I wonder if they ever perform in Colorado?