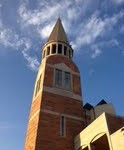 My attempt to get to grips with the cultural scene of a whole new city is scattershot to say the least. I had delusions of being methodical about it before I came to Denver, but that notion has gone completely out of the window since my attention is — happily — being pulled in many different directions. I've decided instead to simply follow my nose.
Here are three things I did this weekend which I want to talk about briefly.
The first is the two and a half hour cycling tour of downtown Denver that I undertook on Sunday morning. I've been missing my bike (which is still in transit with all my other stuff from San Francisco. Grrrr.) So getting the lay of the land on two wheels over the weekend turned out to be both a relief and a joyful experience, even though the weather was cold and rainy for the first time since I arrived in town two weeks ago. The tour was led by a knowledgeable young schoolteacher named Jim. The operator was Bikealope. Besides Jim and myself, there was just one other 30-something couple from Chicago on the ride. We covered just under 10 miles and a lot of the city's history and central geography. I loved learning about the founding of the city during the Gold Rush years and its roots as two different towns which eventually fused into one. Some of the city's arts institutions were represented on our journey — The Denver Art Museum and Museum, Molly Brown House, and Museum of Contemporary Art. But the tour was more weighted towards sports fans. We visited three out of  four of Denver's pro sports arenas and lingered at each one for quite a while. This certainly put perspective on things for me as an arts person. A lot needs to be done to connect this region's passion for sports with the wealth of its arts scene.
On Friday night, I took myself off to Bluebird, a gorgeous ex-Vaudeville theatre in downtown Denver, to experience Dessa, who is fast becoming one of my favorite singers. The Minneapolis rapper, singer and spoken word poet has a rich, earthen voice and a soft-spoken presence on stage which belies the power of her poetry. The show at Bluebird brought together a mixture of soulful R&B-spiced ballads and more hard-hitting hip-hop songs. Dessa's band was tight but I wished that the vocalist  had taken more ownership of her superstar front woman role and not shared the stage so eagerly and equally with her keyboard/backup singer. The combination of voices and energies between the two women didn't quite work for me, and the harmonies quickly became repetitive, though the impulse to duet shows generosity and works OK if used sparingly.
Sunday evening presented a very different kind of musical experience. One of my colleagues, Monika Vischer, who heads up CPR's classical music station, invited me to hear the Denver University Lamont School of Music's Fourth Annual Carillon Summer recital series. The concert, which was attended by roughly a hundred people dotted on the Denver University Campus lawns and stadium bleachers, was performed by Lee Cobb, who presently serves as the carillonneur at a church in Clearwater, Florida. Cobb's repertoire ranged from Italian art songs of the 17th and 18th centuries to Jerome Kern's "All The Things You Are" to a piece by the 20th century composer Kozaburo Hirai.  I'd never been to a carillon concert before. It reminded me somewhat of the sound bath that I had in a yurt in Joshua Tree Park a couple of years ago. The main difference, however, was that whereas the Joshua Tree experience was contained between walls, causing the bells to vibrate in a very intense way through the body, the open air carillon concert was a gentler physical experience. The vibrations still caused my blood cells to fizz, but my ears were not so strongly overwhelmed. I think it would be fun to experience this music as part of a larger whole, perhaps as an element of the musical lineup of a gospel choir or indie rock band.