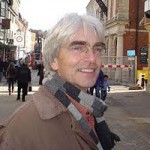 I am in England, having a bit of family time before life, as I know it, does a total summersault in July. This morning, I found myself sitting with around 50 people, most of them retired and female, in Canterbury's Salvation Army headquarters, singing old-fashioned pop hits and folk songs.
My mum sings with this "Monday Music" group. She invited me to join her for this morning's session. The choir is led by an amazing and dynamic conductor, Grenville Hancox (pictured). Grenville, whom I have known since I was a kid, is a retired music professor at Canterbury Christ Church University, a fine clarinetist and a passionate believer in music-making for all. He leads several vocal ensembles around town.  The Monday Music group, which meets every Monday at 11am, is mostly aimed at older people who love to sing for fun but may not have any musical background at all.
Singing as part of this group was such a pleasure this morning. We started off with warm up exercises which ranged from clapping games and singing the letters of the alphabet, to doing rounds in as many as six parts. Then we made a joyful noise in four parts, accompanied by Grenville on guitar, in oldies like The Crystals' "Da Do Ron Ron" and George Harrison's "By Bye Love."
The singers clearly love Grenville. He has a light touch and makes it fun, while at the same time conveying enough about the importance of good diaphragm support and clear diction to make people pay close attention and sit up straight.
One of the unexpected delights of the morning was ending the session by walking en masse over to a nearby health food store where we sang a few songs, flash-mob style, before unsuspecting shoppers. Everyone was smiling among the shelves of gluten-free granola and vegan cheese. The group's energy was high. I think we could have stood there singing for hours.
I left feeling very happy to have been part of the ensemble for the morning. For my mum's sake, I wish Monday music could also happen on the other six days of the week.
PS July 14: Someone posted a 2.5 minute video of our escapade in the health food store. Check it out here.