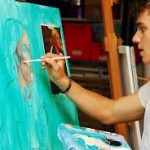 I'm very impressed with the way in which the National Portrait Gallery in London is engaging children and teenagers in the art of portraiture.
I was in the museum, one of my favorite London haunts, a couple of days ago and was struck by the volume and inventiveness of the kids' outreach programs at the institution.
For example, the National's high-profile BP Portrait Award features a "Next Generation" initiative which organizes a bunch of special programming for young people aged between 14 and 19. Kids enrolled in the program get private viewings of the works presented in the annual award exhibition,  portrait drawing and painting workshops with BP Portrait Award artists, the opportunity to attend a special summer school and drop-in art sessions.
Also connected with the BP Award is a lovely "kids guide" that youngsters can pick up when they enter the exhibition space. The guide, which takes the simple but effective form of  a colorful, high-quality paper handout produced by artist Anna Hymas, takes children on a special tour, asking playful questions about some of the works on display and providing space for kids to draw their responses to some of the paintings that catch their eye. There's even a section for a prize draw. Kids are encouraged to draw thumbnail portraits on the entry form of their friends and family. Winning entries get goody bags with signed books by Hymas.
Then there's the "Creative Connections" program, a four-year project which connects young people with contemporary artists to create artistic responses inspired by works in the gallery's collection. The present incarnation of the project (which is in its first year) involves students from a London school working with artist Lucy Steggals to seek inspiration from eight portraits that have some kind of historical link to their neighborhood of Bow. The portraits include those of Gandhi and Sylvia Pankhurst. The initiative is accompanied by a slew of lectures, walking tours and family art workshops.
I saw lots of children and teens at the Gallery when I was there. Many of them were browsing independently. Some of them were drawing in front of canvases. The institution makes engagement look easy. But clearly a lot of time, creativity and effort has gone into engaging the young.