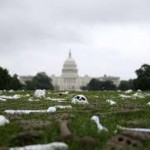 It was surreal going from fawning over a lock of Beethoven's hair yesterday afternoon to running through a park scattered with thousands of artificial bones this morning.
The lock of hair (given the stamp of authenticity by virtue of a document, written in now-faded ink, by Beethoven himself) is one of the many curiosities stashed away in the Library of Congress's music archives. Yesterday, I hosted and produced in collaboration with music specialists at the Library, a podcast about some of the whacky stuff that the institution holds that once belonged to famous composers. Beethoven's hair, a bunch of fabric swatches owned by Wagner, who had a weakness for pink, silk waistcoat linings, and Copland's rolodex were among the ephemera under discussion.
Yesterday's fun was sharply thrown into relief this morning as I was on my run through the National Mall. A team of volunteers was hard at work, picking up what looked like trash but upon closer inspection turned out to be thousands of plaster- and paper-cast human bones.
Over the weekend, the Mall had been the site of a huge "graveyard" — a large-scale social arts installation entitled "One Million Bones" masterminded by artist-activist Naomi Natale. The project took three years to come together for display from June 8-10 on the Mall. Natale and her team collected one million handcrafted bones from members of the public. The installation, coupled with workshops, music and talks, was aimed at raising awareness of ongoing atrocities in places like Sudan, South Sudan, the Democratic Republic of the Congo, Somalia and Burma. The project was inspired by Philip Gourevitch's book about the Rwandan genocide, We Wish To Inform You That Tomorrow We Will Be Killed With Our Families.
I didn't get to see the installation over the weekend. But it must have made a powerful statement. Even the dregs of it that I saw this morning — most of the remaining body parts reduced to a mushy pulp owing to the heavy rains we've had here over the past few days — were still completely disconcerting.
Isn't is strange how a lock of a dead composer's hair can be treated like a holy relic, while the fabricated bones of millions of massacred people get swept into the trash?