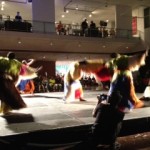 Art museums generally go two ways with their textile-oriented exhibitions, neither of which are particularly satisfactory.
Either they stage the big, flashy haute couture shows of clothing by A-list fashion designers, or they mount folksy displays of appliqué and macramé created by unheralded craftspeople from downtrodden communities. The former draw huge crowds but are essentially all glitz and no soul, and the latter shine a light on often fascinating "outsider" art but are usually over-earnest and unimaginatively presented.
Contrastingly, The Denver Art Museum's fabric-focused effort, Spun: Adventures in Textiles, manages to make apparel dance. Literally.
I attended the museum's monthly late night event on Friday and left feeling utterly inspired by the way in which the institution makes textile art seem exciting and relevant without resorting to the vacuous world of catwalks or the overly-sincere one of patchwork quilts.
A cornerstone of Spun is a show devoted to the work of Nick Cave, an awe-inspiring American artist who works at the intersection of costume, sculpture, performance art and video montage. Cave is most famous for creating a series of massive, colorful "Sound Suits" out of thin strands of stringy fabric which transform the human body into a being that's part Wookie, part shaman and part toilet brush.
Cave's work is on display in several rooms in the museum as video installations and a gallery full of his most mind boggling costume creations. On Friday night in front of a packed auditorium, Cave engaged three professional dance companies from Colorado and a number of auditioned community members (including a museum security guard) to perform dances wearing  Sound Suits or interacting with other large-scale fabric props. A live band provided a brazen, heavily improvised soundtrack for the dancers. Videographers weaved in and out of the choreography, creating a version of the event, screened on one of the walls on a large-scale as well as projected via live web-stream on the Internet, that allowed audiences to examine what was going on from several different angles.
It was a euphoric hour and a half that engaged all of the senses – I was sitting in the front row and was able to smell the dancers' sweat and touch the soft, woolly strands of a horse-like Sound Suit that two dancers wore towards the end of the show.
The Suits are so vibrant, funny and full of life that it's hard to believe that Cave first started experimenting with the idea in reaction to the violent, racial hatred-inspired beating of Rodney King in 1991. The Suits have evolved since then, becoming more extravagant. But even as the dancers involved in the live presentation burst and shimmied around the stage in an avalanche of carnivalesque color and movement, the primal, crazed energy at times took a sinister and exhausting turn. There is undoubtedly a violent streak in this work, as gorgeous and hilarious as it seems on the surface.