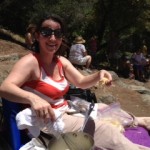 I hesitate to draw conclusions about the sensibilities of entire nations from seeing three plays over the course of a weekend, but it strikes me that the trio of productions I just experienced — a desperately dark Irish play, an English comedy with a hard-hitting underbelly, and a resolutely optimistic American musical — kind of sum up traditional views of these three contrasting yet related cultures. Here are a few further thoughts about each show:
Abigail's Party at SF Playhouse: The English dramatist / filmmaker Mike Leigh's dark 1977 satire revolving around an adult cocktail party as one of the guest's teenage children (the titular Abigail) holds her own social gathering next door is subtly yet insistently infused with the inter-marital, class-conscious struggles of everyday life. The play is nearly 40 years old at this point and is set in a time and place — 1970s south-eastern England — which probably feels quite alien to most contemporary American audiences. At one point, the chatty, glamorous hostess Beverly (a sashaying, goading and irrepressible Susi Damilano) and her younger dowdier neighbor Angela (a frumpy yet endearing Allison Jean White) gaze at a shelf ornament that changes color and remark, excitedly, that the object reminds them of New York. Ah, these were innocent times. Yet despite the distance separating us from Leigh's world, the core issues at stake are as prescient as ever. As Amy Glazer's hilarious yet hard-hitting production careens on and the characters become more and more drunk and more and more disaffected with their lives, we are left with the feeling of dread not so much about the characters themselves, but about the sort of world that the obliviously partying teenagers next door will inherit from their unhappy forbears.
Terminus at the Magic Theatre: The last time I saw a play by the Irish playwright Mark O'Rowe was also at The Magic Theatre. That was about 12 years ago and Howie The Rookie has stayed with me ever since. I came away from that experience dumbfounded by the power of monologue and giddy from the beautiful violence of the dramatist's lyrical use of language. This play, a three-hander instead of a duo, delvers similarly in terms of pith, poetry and punch. The tightly structured play takes place in a sort of holocaust-like nowhere land, realized by Robert Brill as a desolate sandbox packed with flinty dark grey shale upon which the three characters, uniformly dubbed A, B and C, stand, sit and lie down. A sepulchral light glimmers throughout Jon Tracy's menacing-taut production and the characters are trapped in this space for the duration of the action. The drama weaves together narratives that balance extremes of kindness, destruction, love and hate and inhabits a liminal space throughout that perches on the precipice between life and deaf. In one story, for example, a young woman finds herself falling off a crane following a nasty surprise involving a boy she fancies; in another a woman describes being hit in the head repeatedly with a chair following an altercation with a psychopath about a violent abortion. Through nine monologues (alternating equally between each of the three characters) the tumbling locutions of the three characters' monologues bring the cadences of Beckett, Shakespeare and rap music to mind. Stacy Ross, Marissa Keltie and Carl Lumbly make for a formidable cast. Their performances are focused, balancing mania with pathos. I staggered out of the theatre after close to two intermissionless hours feeling profoundly frightened and moved.
The Sound of Music at Mountain Play: It's hard to imagine a more fitting production to celebrate the hundredth anniversary of the Mountain Play summer play producti0ns in a capacious amphitheatre near the summit of Marin County's Mount Tamalpais than Rogers and Hammerstein's classic musical ode to fresh mountain air and the healing power of song. I hiked up Mount Tam from Mill Valley for three steep, sunbaked  hours, schlepping a picnic with a friend, Christophe, in order to see the show. (See above for a picture of another friend, Mirit, making fondue on the mountaintop for our lunch. Never let it be said that my people do things by halves.) I've seen productions of this musical all over the gaff. But this time, uniquely, felt like I could join in with Mother Abbess Hope Briggs' rich rendition of "Climb Every Mountain" and actually mean it. Mountain Play has assembled a lively and talented cast for the production helmed by an energetic and lovely Heather Buck in the central role of Maria. I was highly entertained, and, surprisingly for a boozy, sunny afternoon on top of a mountain among several thousand picnicking playgoers, also felt deeply moved by the drama's serious political undercurrent.