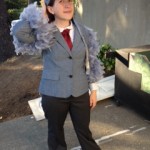 The annual Piedmont High School Bird Calling Contest has to be one of the hidden cultural gems of the Bay Area, like some rare species of owl.
I say hidden, but in fact this eccentric and marvelous competition which has been going since 1963, get quite a bit of exposure: The winners appear every year on the David Letterman show to perform their winning calls to millions of viewers. Before Letterman started inviting the high school bird call aficionados to perform on air, they were annual guests on the Johnny Carson show.
Yet despite this mass publicity, I hadn't even heard of the competition until a guest on VoiceBox, whistler Jason Victor Serinus, mentioned it in passing when we recorded a show together last fall. I'd been thinking about doing a show on the relationship between human song and bird song for several years and realized at that moment that the Piedmont Bird Calling Contest had to be in the mix.
I accompanied my reporter, Rachel Hamburg, to the 48th iteration of the event, at Piedmont High School in the East Bay on Friday evening. It was a rewarding evening, though it appears that standards in bird calling among students have somewhat fallen in the decades since the competition kicked off. But what the students have lost in terms of technical expertise, they have perhaps gained in theatricality and comedy.
The format is simple: The students pick a bird, create an introductory skit around it that weaves in a few pertinent facts about that bird, and then, at the climax of the skit, imitate the bird's call. A panel of judges awards points based on "authenticity of call," "poise and delivery," and "content of introduction." The audience and judges get to hear a recording of the bird's call prior to each performance.
Back stage before the competition began, all was a-twitter. Kids dressed in makeshift wings and beaks milled fussed with their costumed and huddled in corners practicing the call of such species as the snowy egret, the laughing gull and the greater prairie chicken.
When they got up on stage though, the students all showed great poise. Among my favorite skits was Dina Zangwill's sweetly bristling red-throated loon (Dina is pictured above.) The bird had an unexpectedly loud and searing call. Dina won second place and was jumping about with excitement at the prospect of doing her loon on Letterman. She gave Rachel and I a massive hug. I also loved Billy Ireland, Wes Dunlap and William Meredith's snowy egret. The three students created an absurdly funny sketch around a yoga class that seamlessly and hilariously integrated facts about the bird with the call and clever humor. This sketch didn't place however.
The entries were complemented by fun extras such as a performance of a couple of songs by a student a cappella quartet, who gave a tuneful rendition of "Rockin' Robin," and a presentation of some video from the Piedmont competition's first appearance in 1963 on the Johnny Carson show.
From watching this footage, it became clear to me that student bird calls today aren't what they were back then. The early birders did much more technical stuff — imitating birds with complex whistles. No one attempted anything virtuostic this year. It was mostly a lot of squawking.
On the Carson show, the competitors don't get to perform their skits; only their calls. So I didn't get to see any footage of the actual competition. I'm guessing that students place more emphasis on the comedy and whackiness of their sketches than the complexity of their calls these days, though I can't say for sure.