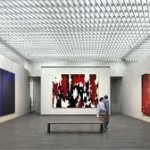 The final part of my trip to Denver included a visit to The Clyfford Still Museum. This jewel-box of an art institution, which opened in November 2011 right in the middle of an otherwise rather barren section of downtown Denver overlooking several parking lots, is one of the most compelling museums I've experienced dedicated to a single artist.
The grey, concrete building, designed by Brad Cloepfil and his colleagues from the Allied Works Architecture firm, provides vast amounts of natural light and interesting views at every turn.
Seeing so many of Still's art under one roof makes me understand why he felt so strongly about an artist's works being seen en masse rather than as an isolated element in the context of a large group show.
The museum does a wonderful job of demonstrating Still's development over time. The importance of the human figure runs as a theme throughout his long career as is evidenced from the juxtaposition of early works showing farmhands toiling in the fields with more abstract paintings in which the human form is depicted by a few jagged vertical columns.
The way in which Still used color over the years is especially vivid. An entire room is devoted to paintings whose dominant hue is bright yellow. Another is occupied mostly by black paintings. Red and blue rooms are also on display.
I found myself sitting for long stretches of time in the color-themed rooms, simply letting the canvases work their magic on me. Where initially I saw only sunshiney yellow in one painting, after a few minutes, I began to see yellow as a vast assortment of different shades and moods. The same thing happened in the other rooms.
I didn't consider painting to be a time-based art until I sat down in front of these works.