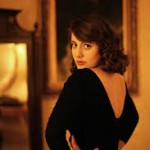 When it comes to connecting with an audience, a singer's body language is as important as the power of his or her voice and material.
This is why last night's concert by Caitlin Rose at The Bootleg Theater in Los Angeles was so disconcerting: The young, Nashville-based country rock artist was saying one thing with her voice and quite another with her body. The two were in conflict. I've been wondering if this is a good or bad thing. At this point, after some hours of reflection, I see the lack of cohesion as a strike against the singer.
Rose has the kind of voice that makes you want to get out of bed in the morning, fling open the door and dance down the street barefoot, regardless of what the weather's doing. Her instrument is clear and bright and full of youthfulness. It lends depth to whatever it is that she's singing about, from heartache to new love.
I felt immediately drawn to Rose's voice when I first heard the singer's music on YouTube. But in person, the sweetness and clarity of her singing don't quite level with the way she carries herself on stage.
With her hands clasped somewhat awkwardly on front of her torso or crotch when she doesn't have a guitar strapped to her chest, Rose appears to be on the defensive. Throughout last night's concert, it seemed to me that she had something to hide. I could not warm to her, despite the beauty of her sound.
I have seen plenty of vocalists put dark and brooding lyrics out there and cover their voices and stare at their shoes. The medium in such cases fits the message — one can be drawn in deeply by the all-consuming nature of the performer's introversion or negativity. But I don't think I have experienced such an emotional disconnect between the way in which a performer sings and their body language as I did last night at Rose's gig. It was quite confusing and ultimately off-putting.
Perhaps a really skilled performer might be able to manipulate a dissonance between their singing and body language to great effect. Rose isn't one  of these people though. I love the singer's music, but I felt estranged from her in the live format. Perhaps I'll stick to her recordings from now on.