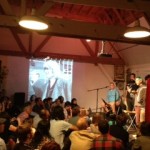 Radio Silence is a formidable organization. Founded by teacher-turned-writer/editor Dan Stone, the year-old, print, online and live magazine exists at the intersection between rock music and literature. It's about time that someone came up with intelligent content in this area of our culture. There hasn't been a ton of it since the early days of Rolling Stone.
The contributors and discourse include gems like New Yorker editor David Remnick discussing Bob Dylan on a podcast and an essay by Tobias Wolff about his peripatetic musical passions. This is quality stuff. Oh, and and portion of the money that Radio Silence, a 501(c)3 organization, raises is used to buy books and musical instruments for kids.
I became intrigued by Radio Silence quite recently when Stone sent me the newly-minted issue two of the magazine via email. Then, when the announcement came that the organization would be hosting a live event in a loft featuring a reading by Daniel Handler, music from John Vanderslice and a conversation about David Bowie featuring Vanderslice, Handler and Stone, I had to be there.
The event took place in a loft in The Mission last night and it was a casual and warm affair. There were about 100 people squished into the room. Handler read from his book Adverbs, and Vanderslice talked about his new set of songs based on David Bowie's seminal Diamond Dogs album. Handler got out his accordion and joined Vanderslice on some of the musical content from the Bowie cannon. Wine and snacks flowed. It was fun. I am looking forward to the next one.