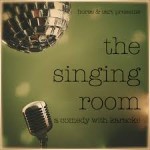 Karaoke is a wonderful invention because of its power to unite complete strangers through that electric combination of booze and song. The Singing Room, a new comedy by Denver's Horse & Cart theatre company explores this notion with love and a light touch. Although playwright Sean Paul Mahoney's script could be tighter, the essential feeling that permeates this quirky comedy can't help but put a smile on one's face.
The show basically evolves like an extended improv skit, with various different characters entering a karaoke bar and allowing us to see into a small part of their lives as the songs and the liquor flow. Over the course of the two and a half hour show, we watch such mini-narratives evolve as a 25 year old birthday girl fall out with two close friends, a middle-aged divorcee fail to lure two drunk women back to his lair, and a pair of dorky young lovebirds attempt to figure out the title of a favorite song. Meanwhile, the karaoke bar's emcee and proprietor, the hilariously strict Sunshine (Dorothy Lee), yells at people to come to the mike.
The singing sections of the evening are fun to watch and sing along with, but perhaps need the most work in terms of how they fit into the play dramaturgically. The actors sing characterfully, but what we know of their stories and personalities from the script isn't deeply backed up by the the songs they pick to sing and the way they perform.
For example, by far the most professional sounding pipes of the evening belong to Ava (Nicole Paige Campbell) who gets behind the mike and sings a staggeringly competent performance of "Maybe this Time" from Cabaret. This is the only show-tune in a lineup of mostly standard rock and pop songs ("I Love Rock and Roll," "Wanted Dead or Alive," "Sweet Caroline" etc) and not only jumps out for being a musical theatre number but also because of the vocal technique, poise and drama of the singer. Sung by a character who otherwise has heretofore come across as a total ditz, it should make more of an impact on the rest of the characters in the room and propel what we know of Ava into a new dimension. But the opportunity is wasted. She sings. The bar applauds. The story continues as if nothing had happened.
Still, the production basically has its heart in the right place. I could have done with it being an hour shorter (why not truncate the songs and use spotlights to isolate dialogue while people are singing rather than have huge, music-less pauses in between musical numbers to enable the chunks of dialogue and action to unfold?)
Finally, if you're going to make a play about a booze-fueled night of karaoke, where far more shots are drunk on stage than songs sung, then you can't leave your audience out of the proceedings. It was gratifying that a few audience members were invited by Sunshine to sing numbers on stage as the performance went along, but where oh where were our shots? Don't Denver theatres have bars for people who aren't on stage?