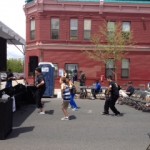 I made the most of a sunny Saturday in the Mile High City. Here are some thoughts about a few of the cultural activities I undertook:
1. The Five Points Jazz Festival: This beloved street festival devoted to jazz music and related arts is in its 10th year. The Denver neighborhood was a jazz mecca back in the day, hosting the likes of Billie Holliday, Duke Ellington and Count Basie among others. This year's festival was a lively affair with hundreds of people of all ages and ethnic backgrounds milling about several blocks of Welton Street, eating massive barbecued turkey legs and drinking cold beers and pop. Among my personal highlights were a spirited performance by the Colorado Jazz Repertory Orchestra, a big band composed of local jazz old-timers (all of them male) playing standards with flair and dexterity. I was also very much taken by the gypsy swing soundings of Purnell Steen and Le Jazz Machine. I wish I could remember the name of this group's vocalist. Her take on "Cry Me A River" was spine-chilling. Oh, and perhaps best of all was the break dance lesson which I watched for a while (pictured). Two of the most happy-looking, physically awe-inspiring 20-something men worked with young kids to pull some excellent moves. I was transfixed.
2. The Denver Museum of Contemporary Art: This museum is a gem in downtown Denver. It was practically empty yesterday, which was great for me as I hate visiting museums when there are crowds, but not good for the museum, especially since entry yesterday only cost $1. I made the most of the space. To start with, I engulfed myself in Eduardo Sarabia's colorful paintings depicting bucolic scenes blurred over by splotches of color that somehow seem to enhance rather than spoil the portraits and landscapes behind them. Then I went to the basement galleries to watch a video installation by Maya Gurantz, The Whore's Dialogue, which deals with female sexuality, pornography and violence. The installation features three screens in which middle-aged actresses recite sections from a script made out of personal memoirs, court transcripts of violent sex crimes, prostitutes' blogs and pornographic jokes. The images of the figures are crisp and larger than life on the massive screens. The clarity of their voices seems to be at odds with the hard-hitting and salacious nature of the words they intone. This creates an unresting feeling. I left after about 15 minutes feeling like I'd been slimed over. I ran up to the top of the building and spent an enjoyable hour or so sitting outside the museum's lovely rooftop cafe in the sun drinking prosecco and snacking on guacamole and chips while watching the vague hubbub of Denver downtown street life below. It was fun to look down on a construction project and see miniature people walk and cycle about. Finally, I took in the expansive and quirky Dance Rehearsal: Karen Kilimnik's World of Ballet and Theatre. The American artist Karen Kilimnik has a longstanding professional and personal relationship with historical theatre, in particular, the Classical and Romantic story ballets of the eighteenth and nineteenth centuries. I love the way the artist's contemporary, pop-art infused sensibility playfully collides with idealized images of  ballerinas in tutus. In one of the most fun installations in the museum, we enter a little wooden pagoda, sit down on comfortable banquettes and watch a video in which tiny fairy ballerinas pop up against a fecund forest backdrop and then disappear again as if by magic. The exhibition is really much more thoughtful than it is kitsch.
3. The Colorado Symphony: I have been curious about The Colorado Symphony for a while, having heard about its financial woes and having profiled its former conductor, Jeffrey Kahane, for the Los Angeles Times a while back. Happily, the orchestra was in session this weekend, performing an all-Gershwin program with its effusive new artistic leader, Andrew Litton, occupying both the conductor's and pianist's positions. First, I really like Boettcher Hall. It's a big, warm nest with excellent sight lines. I sat towards the back of the mezzanine for the first half on the concert which provided a good view and decent sound, and then moved behind the orchestra, which put me up close and personal with the musicians. This was even better. Litton has an easy, fun-loving manner about him. He clearly loves and deeply feels the music of George Gershwin. I enjoyed his short talks about the pieces and even learned a thing or two — I had no idea, for instance, that the it was the clarinetist in the original performance of Rhapsody in Blue who created the famous glissando slide and wail that starts off the work. Gershwin liked the effect and kept it in the piece. Litton is also a skilled, energetic multi-tasker.  I could barely keep up with the maestro: one moment he was hunched like a plump hedgehog at the piano, hammering out virtuostic cadenzas; the next he was up on his feet waving a baton. He moved seamlessly between the iPad from which he read the piano score to sheets of music, which were scattered on top of the instrument-cum-podium. Sometimes he conducted without referring to the score. I only noticed one occasion when he didn't move quite fast enough between playing and conducting, causing a trumpet to loudly split a high note. Last night's concert had a rhythmic, big-band feel. The band moved well with its energetic bandmaster and Gershwin's music, and the spirit in the hall was infectious. I relished the fact that Litton programmed well known works by the composer with lesser known ones. The lineup included the Overture to Crazy for You, Day Full of Song, Rhapsody in Blue (a startlingly kinetic performance) and Who Cares? A Ballet.