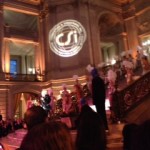 One of the more surreal evenings that I've spent in my many years in San Francisco was spent on Saturday night at a lavish corporate party at San Francisco City Hall.
The party was thrown by a tech company called Computers and Structures Inc (CSI) which I'd never heard of before. CSI is a structural and earthquake engineering software firm based in Berkeley, California. It's headed up by a very flamboyant, fun-lovin,' lady-admirin' structural engineer by the name of Ashraf Habibullah. 

Now normally I don't go to these kinds of events. For one thing, I don't get invited. And for another, I'm usually out seeing performances. For a third, corporate events are not really my kind of scene. But when a choreographer friend of mine who has directed the entertainment portion of previous parties thrown by CSI (apparently the City Hall shindig is an annual occurrence) invited me, I accepted mostly for two reasons. One, I wanted to see how a corporation parties during an economic recession; and two, I was curious about Habibullah, the host for the evening.
The Pakistani-American entrepreneur has a passion for the arts. He's a co-founder of the Diablo Ballet company and started an organization called the Engineers' Alliance for the Arts which encourages school kids to explore the links between art, technology and structural engineering. In other words, Habibullah is no ordinary engineering firm CEO.
The work of Diablo Ballet is a far cry  from the Las Vegas theme of Habibullah's party though.
The setup was tacky and fun and probably pretty pricey. There were carefully-made, large-scale mock-ups of Vegas architectural landmarks and the company had hired what seemed to be top-of-the-line pop star impersonators.
At one point in the evening, a cavalcade that included a lookalike Elvis, Cher, Celine Dion, Madonna and Michael Jackson performed short snippets of hit pop songs on the grand staircase flanked by feather-and-sequin-clad chorus girls. The lookalikes were mostly pretty convincing, unlike the few performers who had been drafted in and covered in face paint to imitate (badly) that staple of the contemporary Vegas entertainment scene, the Blue Man Group.
Our host looked like he was having a great time throughout. He insisted that every guest had their picture taken with him as they walked in and loved giving people hugs. I admired his outfit: Habibullah was wearing a custom-made suit which glimmered with tiny winking lights. His shoes flashed with the same LEDs.
Despite the attention to detail, one thing that was curiously absent from the Vegasification of City Hall was the gambling. I wonder why this form of entertainment, which is closer to the heart of Sin City culture even than Celine Dion, was kept out of the proceedings? I guess corporations that spend perhaps a quarter of a million dollars on a party don't want to be reminded of the easy come easy go nature of cash-flow.
I personally found the metaphor of the slot machine-less Vegas to be a bit creepy in this context. San Francisco is a city whose wealth has been built on the gambling antics of prospectors and entrepreneurs. That a Bay Area corporation should arrange a Vegas-themed party in the seat of local government without recognizing this irony in an upfront way seems like willful ignorance.
P.S. It's interesting to consider how much money might have been dropped on this black-tie party for about 800 guests. City Hall is surprisingly inexpensive to rent for a space of its size and history. From the website that displays the fees, it looks like that aspect of the evening might have come in at around $12,500. But the cost of the amazing amounts of delicious food (which ranged from made-in-the-moment sushi to Indian fare) and drink, the transformative decor and the entertainment must not have been slight.