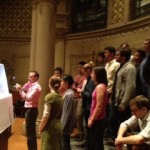 Of the many singing experiences I've had to date, the one I participated in last night at Stanford's Memorial Church was among the most visceral, and is likely to be an experience I remember with fondness for a long, long time.
I was part of the ensemble involved in Stanford music scholar Jesse Rodin's Digital Josquin Project. The Project revolved around a series of workshops and final concert in which we performed late works by the 15th – 16th century Franco-Flemish composer Josquin des Prez behind a specially commissioned music lectern modeled after a 15th century original housed in Bargello in Florence. Meanwhile, a big screen projected high-tech digital representations of data culled from the music to help people visualize the patterns in Josquin's work. The professional singing group Cut Circle joined us for the rehearsals and concert. I outlined the project a few days ago in this blog post.
What made the experience so visceral for me was singing in such close physical proximity to my fellow vocalists. My skin was touching the people standing directly around me and I could feel my neighbor's breath on my face. And because we were all reading from the same score that was a couple of feet in front of us, we looked up and out throughout the concert instead of down at folders full of sheet music, as is usually the case in choral music events. This led to a sound that was organic, freeing and full. In truth, I've never felt so much "on the inside" of a piece of music as I felt last night as a result of this configuration. The music was coursing through us all and out into the room with tremendous power. It was super moving. I could have stood there singing Josquin all night.
The picture above, taken during one of our rehearsals last week, shows us singing on risers in front of the stand upon which a giant musical score was balanced. This was an experiment to see whether this more standard configuration felt more comfortable. People could see a little more easily on the risers, but the carpeted metal stands were a total joy-killer. We sounded uninspiring on them and they squeaked. The whole thing lacked intimacy. We ended up ditching the risers, thank God. I'm glad we tried them out though because it was interesting to see how making a few simple tweaks to a musical ensemble's environment can impact their sensation and sound.
The Josquin Project left me thinking that choruses should experiment with singing in close-clustered formations on a regular basis. And anything that can be done to get people's eyes away from individual copies of a score is a good thing. If learning music off by heart or creating mega-scores for a group to share aren't possibilities, then maybe there's a case to be made for sheet music to tele-prompters or some other centralized source. Looking up makes a great deal of difference.
I'm looking forward to collaborating on this type of work again with Jesse, if he'll have me. Next time around, we'll sing from illuminated manuscripts rather than specially-prepared contemporary editions of Josquin's work. That will doubtless add a whole new layer of experimentation at the crossroads of "old meets new."