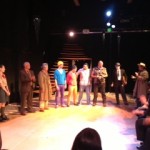 Campo Santo is one of those uncommon theatre companies that exists in the professional space, producing often high quality work, while at the same time remaining intimately connected with and entrenched in its community.
In so doing, Campo Santo lifts the much maligned term "community theatre" out of the swamp of disdain and makes it sound worthy of its name. All theatre should aspire to be community theatre, ultimately.
Campo Santo's latest world premiere — The River — by Culture Clash's Richard Montoya and directed by company stalwart Sean San Jose is, albeit a bit of a crazed dramaturgical whirlwind, a superb example of community theatre as it should be perceived.
The one issue I have with the experiencing the show is less to do with the play itself — which is pretty great. It has to do with the fact that that the theatre company is so deeply focused in on its own community-mindedness that it can be prone to a level of self-congratulatory navel-gazing and in-joke-making that's rather alienating to anyone who isn't intimately connected with the company's personnel and politics.
Revolving around the mysterious and macabre death of Mexican worker Luis who was lost without a trace in the desert near the California-Mexico border, the play makes for compelling viewing. It whips along with a mixture of lyrical and spunky dialogue that makes us think about the serious issues about immigration and race without seeming remotely didactic. Watching The River is akin to taking a wild and drunken white water raft ride thanks to the superb ensemble cast which brings Montoya's roster of gonzo California characters vividly to life.
They're mostly cartoon types, reminiscent of the sorts of unsavory characters that populate Hunter S Thompson's Fear and Loathing in Las Vegas, but they seem full and unusual. I particularly love the conflagration between Nora el Samahy's forthright park ranger and gay Mission hipsters Lance and Javier (played by Christopher Ward White and Lakin Valdez respectively). The characters paint a picture of the Bay Area and California that is at outlandish as it is recognizable.
What wrecked the opening night show for me was the 15 minutes devoted at the end, immediately after the applause, to members of the company going into a weird hyped-up self-appreciation fest. I realize that open nights can sometimes veer into this terrain (that's partly the reason why I tend to avoid them) and there's also the consideration that the play was written as a memorial to the late company member Luis Saguar. There were many members of the Campo Santo "family" in the room that night. But not everyone in the audience needed to be part of the company's ad hoc and longwinded "group hug." That's what green rooms and opening night parties are for.  We were all trapped there though. By the time I left, I felt like I had been slimed. I had to rush home to wash the river water off.
Public displays of self-adulatory behavior, along with poor quality production values, create the deadly combination that gives community theatre a bad name. Few people could accuse Campo Santo of the second of these crimes. But the first is becoming an issue.
There's a way for a company to connect with its audience as a whole without alienating the people who love its work but who aren't necessarily interested in being part of the love-in.