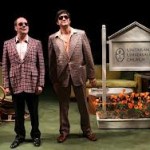 Julie Marie Myatt's play The Happy Ones which is now running in a production directed by Jonathan Moscone at the Magic Theatre, treads long-trampled theatre ground in its examination of the meaning and emptiness of the so-called "American Dream."
What makes this rather far-fetched drama interesting is that it views the US from a more global viewpoint than the many navel-gazing dramas that tend to populate the American Dream playwriting genre.
Like the genre's ur-text, Death of a Salesman, The Happy Ones also follows the fortunes of a salesman. But it ends on a slightly more hopeful note. Walter Wells is a an upstanding, middle-class appliance store owner, a loving husband and father and a good Christian. His life in 19670s Southern California seems perfect to him. He is perfectly contented. When Walter's wife and children are killed in a car accident, his world falls apart. And when the Vietnamese immigrant, Bao Ngo, who caused the death of his nearest and dearest shows up in his store asking to do penance for his crime, things starts to take a sightly surreal turn in Walter's life.
Set just after the fall of Saigon in 1975, the play draws an explicit parallel between an American man's personal tragedy as a result of an unfortunate accident and that of an entire nation — the thousands of Vietnamese people who lost their families, homes and patrimony as a result of carefully strategized American violence.
It's hard to buy the relationship between Walter and Bao even at the hands of Moscone's slick direction and the capable ensemble cast helmed by Liam Craig as Walter and Jomar Tagatac as Bao. And we don't come away really knowing much more about the American Dream and its failure than we get from classic works in the genre like Miller's.
Still, I came away from the two-hour play caring about the characters, which is more than I can say about most contemporary plays.