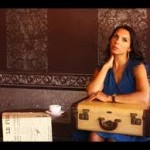 Pianist Lara Downes commands my respect because she is not only a brilliant musician, but she is also a wonderful programmer, educationist and creative thinker.
Last night at Yoshi's in San Francisco, Downes launched her new Artist Sessions series, in which the pianist invites musical guests to join her on stage for conversation about their work interspersed by music.
The series launched with a soiree revolving around the release of Downes' luminous new Exiles Cafe recording on the Steinway & Sons label and involved guest artists Quartet San Francisco.
The program featured a wonderful mixture of folk-inflected music mostly by 20th century composers who had willingly or unwillingly left their homelands to pursue lives abroad. Miniatures by the likes of Piazzolla, Stravinsky, Chopin, Bartok and Prokoviev came and went, evoking a range of different moods from melancholic to spirited.
Tangos abounded. In fact, the concert got me thinking about the tango as being the ultimate expression of the diasporic way of life. So many of these exiled composers wrote them. I wonder why? Perhaps it's something to do with the tension between the exotic and the everyday embodied by tango…??
I love the intimacy of The Artist Sessions and I'm looking forward to attending future events, such as the one on May 29 with pianist Christopher O'Riley and the one in the fall with vocalist Theo Bleckmann.
I think the coziness warrants more participation from the audience, however. The event is touted as being "interactive," which I usually take to mean that the artists involve the audience in the proceedings beyond playing to them and acknowledging their applause. This wasn't the case last night: The interactivity revolved exclusively around the artists on stage talking to each other. It would be fun to see Downes and her collaborators become more creative about the way they engage with the room.