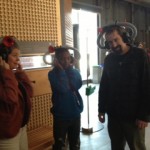 Lots going on. A few thoughts about a few things:
1. The Exploratorium: San Francisco's eclectic interactive museum devoted to the meeting point between science and art recently opened its massive new digs on the waterfront with a flourish of parties and special events. I attended a "Friends and Family" Day at The Exploratorium last week and was happy to wander around the cavernous space engaging with all kinds of interesting installations demonstrating how various natural and manmade phenomena work. The museum is a mishmash of old installations brought over from the institution's former home at the Palace of Fine Arts and new features. I like the unfinished, workshop-like atmosphere of the place. It's more like a massive unkempt warehouse where creative things take place than a slick contemporary museum with shiny plastic and brushed metal exhibits. What I am not so keen on, however, is the lack of natural light in the building. The beautiful terrace overlooking the Bay comes as a welcome contrast to the murk of the museum as a whole. The ceilings seem very low and so do most of the exhibit illuminations. Perhaps this is taking the concept of a creative workshop-garage a little too far.
2. The Bereaved: There's been a lot of buzz about the work of the American playwright Thomas Bradshaw in these parts lately. His dramas, which vomit rape, drug-abuse, violent crime and other serious matters over audiences in a disturbingly lighthearted way, haven't yet gotten much airplay by the Bay. I think that'll probably change now owing to Crowded Fire theatre company's slickly produced production of Bradshaw's The Bereaved. The drama, which tells a story of a middle-class family's "struggle" to maintain its lifestyle in the wake of the death of its main bread-winner, is really a parody of dramatic form and content. Like an 18th Century French farce or English comedy of manners, The Bereaved follows its own mad logic. Bradshaw's genius is to make unlikely and quite shocking decisions seem like they make perfect sense within the framework of the play: A caring mother asks her husband to marry her best friend on her death bed; a caring father endorses his 15 year old son's career as a drug pusher at school, a loving son steals from his father…and so on. There's also a ton of very explicit sex in the play, which Crowded Fire's ensemble cast, led by Marissa Wolf, accomplish with unflinching aplomb. Wolf goes on and on about the play's "honesty" in her program notes. But I don't see The Bereaved's representation of life as as being particularly honest or dishonest. What it is in a nutshell is fast food. I felt stuffed and queasy after the experience, as if I'd eaten five Big Macs in one go. In as much as we live in a "fast food culture," I suppose the drama is an accurate reflection of life in some sense. But at the end of the day, it's all just empty calories.
3. Notes from the Middle East: Oakland East Bay Symphony's concert involving Egyptian, Israeli and Palestinian composers and musicians was beautifully performed at The Paramount Theatre on Saturday night. But I came away from the experience thinking about how challenging it can be for composers to successfully integrate different kinds of musical genres together without succumbing to musical cliches. Nader Abassi's The Nile Bride is full of turmeric-laced meslimas and whirling dervish string passages which give his piece a vaguely Middle Eastern flavor. I felt like I was listening to the score of an old Hollywood movie set in that part of the world during British colonial times. The world premiere of John Bisharat's Ya Way Li, is full of interesting musical colors owing to the combination of the full forces of a symphony orchestra and various Middle Eastern vocal, percussion, string and wind solo instruments. But the Middle Eastern and western instruments don't integrate well in the score. They live separate musical lives as the piece evolves. The most successful work on the program was Avner Dorman's Astrolatory, which shimmered, and didn't make any effort to conjure the spirit of the Middle East. The inclusion of Grieg's Piano Concerto in A minor on the program seemed odd. The crowd-pleasing piece is inspired by Norwegian folk music. Besides the fact that the soloist, Eliran Avni, comes from Israel, I couldn't really see the rationale for its place on the program. Avni's performance was solid but not particularly inspirational.
4. The Community Music Center Children's Chorus Spring Concert: San Francisco's Community Music Center is a great local arts institution that more people should know about. The Center has an amazing choral program for kids aged between eight and twelve that, unlike ensembles such as The San Francisco Girls' and Boys' Choruses, is completely free  to participants and less demanding in terms of rehearsal time. Judging by the sweet, eclectic and tuneful lunchtime concert I attended yesterday at the Center's main auditorium, the quality of the music-making is high and the kids look like they're having fun. The point of such an ensemble is not to tour the world, produce chart-topping Christmas albums and turn children into singing machines. It's to engage them socially, get them breathing and thinking deeply, inspire them to have fun and, of course, teach them about music. Yesterday's concert had the additional benefit of teaching the children about different cultures and languages — the group sang in Latin, Russian, Spanish, Swiss German and English over the course of 45 minutes. Their coach, Beth Wilmurt, is formidable and brilliant. Some of the participants have been singing with Wilmurt for several years; many sets of multiple siblings have passed through this ensemble.  I only wish that there were more boys in the choir. As is so often the case with children's art-making, girls dominate, but singing is equally good and fun for both sexes. There were four boys and five times as many girls as far as I could tell. If I were a parent, I would send my kids to participate in Beth's group.