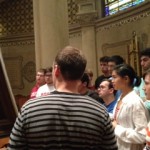 I've been really busy with a fascinating project happening at Stanford under the auspices of Renaissance music scholar Jesse Rodin. It's a marvelously organic amalgam of old-meets-new.
Jesse, an expert on the great Franco-Flemish composer Josquin des Prez (ca. 1450 – 1521), is bringing together a few Stanford singers — undergrad and grad students, plus yours truly — to perform a bunch of late works by the composer at a concert in Memorial Church on the Stanford campus this coming Saturday. Jesse's Boston-based professional vocal ensemble, Cut Circle, is also in town. The four Cut Circle vocalists will also be performing on Saturday. The repertoire includes Inviolata, Preter rerum seriem, and the Missa sine nomine. 
Now what's different about this project, which we're workshopping in a series of intense five-hour long workshops which continue throughout this week, is the merging of old performance practices with new ways of visualizing musical data.
On the one hand, Jesse commissioned some local wood-workers to create a replica of a 15th century music lectern. We're huddling around the lectern to sing the music from one massive manuscript, as would have been the case for the monks who sang this repertoire back in the days before Xerox machines and iPads.
On the other hand, the concert is going to be accompanied by computerized analyses of the music we're singing in real-time. Ge Wang, a computer-music professor at Stanford has created a program which visualizes different aspects of Josquin's music such as the structure of cadences and the frequency of various notes and voice types. The idea is to help people see patterns in the music. The data is going to be shown to the audience in the performance through colorful projections on a big screen or screens.
I've only seen a demo of the technology so far. The piece I saw looked very pretty, like a series of undulating rainbow mandalas.
What's more palpable about the Digital Josquin Project, as it's called, is how standing in a tight huddle around one massive piece of music changes the dynamic of the singing within our group. We are so close that we can touch each other and practically feel each other breathing. We barely need a conductor because we're getting so used to thinking and breathing and singing as one organism. And in fact Jesse is mostly turning the massive pages of the scores at this point and barely conducting at all.  Our combined sense of tuning, blend, dynamics and line flow seem much stronger when we're standing so close, which is also blowing my mind. I feel like every pore of my skin is wide open with this music. It's bizarrely both invigorating and exhausting.
But singing in this way has its challenges. One of the main ones, we've discovered, is figuring out how best to stand around the lectern given the fact that there's barely any room and that everyone is a different shape. Some people say they can't see properly. Others complain that they're standing too close to the music and are getting headaches. Not being able to hear oneself sing is another common response I've been hearing from my colleagues.
We've been experimenting as we go and I think we're getting used to the format and figuring out the optimal arrangement of bodies. As long as people shower before coming to the concert and refrain from eating Big Macs or stinky cheese and wearing heavy perfume, I think we'll be OK.
I can't wait to see how our efforts to emulate the performance practices of Josquin's day will tie in with the computer renderings when they're up in the church. We'll have to wait until the dress rehearsal on Friday to see how that pans out.
P.S. MAY 9, 2013: THIS JUST IN: THE RELEASE OF VIDEO FOOTAGE AND AN ARTICLE ABOUT THE PROJECT:
By Nate Sloan in The Stanford Report:
Video Feature: