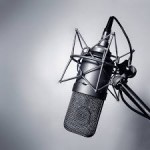 People often tell me I have "a nice voice." So in pursuit of new career avenues after my lovely two-year fellowship run at Stanford comes to an end in June, I decided to look into a possible future as a voiceover professional for commercials, e-books, video games etc. I don't see this as a full-time possibility. But it could be fun and potentially lucrative to get the occasional voiceover job.
A colleague at KALW put me in touch with Elaine Clark, an expert in the field, who has been running a voiceover studio, Voice One, in San Francisco for nearly 30 years. Until this past week, I had no idea that San Francisco was such a hotbed for Voiceover.
I read Elaine's book, There's Money Where Your Mouth Is, on the plane back from Atlanta at the weekend. It bore a lot of similarities to various manuals on acting I've read in the past, but with an added sales dimension, where the (usually corporate) hirer is somewhat creepily termed a "hero."
Spending an hour with Elaine lefty me feel icky but fascinated. I thought that my work in radio over the past three and a half years would stand me in good stead as a voiceover person. But within 30 seconds of standing behind a mike in Elaine's studio, it became patently clear to me that voicing commercials has precious little in common with being a radio host.
Elaine made me read a bunch of short scripts from different corporate clients including Pier 1 Imports, Sam's Club and PayPal. Each script demanded a slightly different feel. I was given a couple of minutes to read and think before each one and then I had to give it a try.
Needless to say, my attempts left much to be desired.
As a radio host, I'm used to looking up from my written outline and making as much eye contact as possible with my in-studio guests. But looking up in voiceover work is all wrong. You have to keep your eyes glued to the script so as to not shift the focus. "Think of the script as the client. You have to stay fixed on what you're selling," Elaine instructed.
My biggest rookie mistake was that my voice kept going up instead of staying anchored. "When your voice goes into the upper register, no one believes what you're selling," said Elaine. I also sounded unpleasantly squeaky up there. I think that this is one of the biggest hurdles that I have to jump at this point: I have to be a good enough actor to believe that buying that couch from Pier 1 changed my life utterly and for the better. Got some work to do there.
If I'm going to get anywhere in this business, I also have to visualize not only the specific character that I am emulating with my voice, but also a specific person that I'm speaking to during the spot. That's tricky.
I felt pretty silly and awkward throughout the session, but Elaine is a patient teacher and gave me lots of interesting feedback. She made all the script lines sound so effortless, where my voice sounded mostly forced and "salesy" to me.
One thing that greatly and quite surprisingly helped was gesturing as I spoke my lines. When I read about the way in which voiceover actors use their bodies in Elaine's book, I  sort of thought of it as an affectation. After all, what's the point of waving your arms about, nodding your head and raising your eyebrows if no one can see you? But in actual fact, gesturing really helped me find rhythm and musicality in what were otherwise flat and boring-sounding lines. Plus, moving about helped me to feel looser and more relaxed, which in turn helped me to get over my sense of awkwardness a little.
Elaine ended the session by evaluating me. She said I had "a nice voice" and that I "take direction well." So that's good. I clearly have a long way to go before I get to the stage where I can  find an agent, get auditions and potentially snag gigs.
I don't feel too discouraged by my meager efforts yesterday. I think I'm going to take more classes. We'll see what happens.