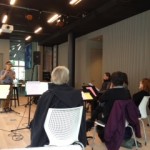 This weekend went by in a whirlwind of cultural activity. Some brief thoughts on a few things:
1. The Secret Garden: Nolan Gasser and Carey Harrison's new opera based on Frances Hodgson Burnett's famous children's book opened on Friday night at Zellerbach Hall in Berkeley. It's the second collaboration centering on family-friendly opera programming between the San Francisco Opera and Cal Performances following 2008's The Little Prince. I found this new opera enchanting, but somehow less beguiling than the first effort, which combined Rachel Portman's sparkling score with some marvelously surreal staging and design touches. The Secret Garden feels quite conventional in comparison. Gasser's music is as descriptive as Portman's and there are some wonderful, lyrical lines for winds in the score. But the endlessly trundling screens coated in Naomie Kremer's painterly projections depicting exteriors of tangled foliage and old-fashioned wallpaper-covered interiors get a little wearing on the eye after a while. I greatly admire the young cast, however, and in particular soprano Sarah Shafer as the story's heroine, Mary Lenox. She's wonderfully gamine and bubbly. That being said, Michael Kepler Meo is miscast as Colin. Finding an opera singer with the right stage presence and youthfulness who can also project across a three thousand seat house is a challenge, admittedly. Meo, who appears to have both classical and musical theatre training in his background, was miked on the night I saw the show and his voice stood starkly out of the texture not only owing not only to the amplification but also because he seemed to be using more of a musical theatre timbre than that of the classical voice that's generally associated with opera singing. I don't know if this choice was made to make his character stand out as being 'different.' But if that were the case, his voice should have blended in and the mic thrown out  towards the end when the character is made to see that he's just another healthy little boy, and not an isolated cripple. On another note, I was excited to see so many kids out at the opera on Friday night. People seemed to be having a good time.
2. Jazz vocals workshop with Kitty Margolis: The great local jazz diva Kitty Margolis gave a three hour workshop about jazz basics on Saturday afternoon at the SF JAZZ Center and my producer Seth and I were lucky to have been permission by Margolis to audit the class as part of our research for an upcoming VoiceBox show. There were ten participants of varying degrees of proficiency in the room. Margolis, accompanied by her guitarist, made everyone improvise as soon as they arrived by singing their name, where they came from and goals for the class. The the singer talked for about an hour about the basics of jazz improvisation for the voice. The main focus of the session was to look at how one goes from being a "jazzy" singer to a an actual jazz singer. Creating a sense of swing through varying a song's rhythm is key to this and the only way to start is to get to know a song as it's written intimately first in terms of its structure, chord progressions, melody and other details. One of the highlights of the class was when Margolis had everyone improvise rhythmically but not melodically on "The Girl from Ipanema." If there had been more time it would have been great to do a variation of this exercise that made melody a variable while asking students to maintain the standard rhythm of a song. The  second half of the class was devoted to Margolis giving a little feedback to each student about a prepared song they had each brought in to share. We heard versions of "Black Coffee," "Lullaby of Birdland" and "Smoke gets in your Eyes," to name a few of the offerings. This portion felt less useful than the rest of the workshop as there's only so much feedback you can give someone in five minutes. But Marglis felt it was important to give each student a chance to sing a song and obtain constructive criticism about their performance of it. Comments ranged from "Learn to sing the melody straight until you know it extremely well before to deviate from it" to "Get out of your head! Take dance lessons!"
3. Program 3 at the San Francisco Ballet: I am not a huge fan of Yuri Possokhov's choreographic work. I find it rather heavy-handed in terms of its use of symbolism. But his new take on Stravinsky's  The Rite of Spring, which received its first performances over the weekend, is as beautiful as it is incendiary. The movement is both lyrical yet brazen, fecund yet otherworldly. It's grounding in the rotation of the hips and pelvis makes the dancing feel earthy and yet the angularity of the steps appear alien. The combination is unsettling, especially when combined with Sandra Woodall's gorgeous gossamer costumes which make the female dancers look as fragile as butterfly wings. At various times during the work, by willingness or by force, the skimpy fabric would fall or be pulled off, revealing simple white leotards that made the  female company members look even more fragile and exposed. The orchestra attacked Stravinsky's score with euphoric energy and aggression. As far as I could parse the narrative of this Rite, Possokhov grants the characters some agency, rather than in the Ballet Russes original where a ballerina is singled out to be put to death apparently at random. When a female and male couple commit some kind of transgression (perhaps a sexual act?) in Possokhov's telling, group think takes over and one of the pair is singled out for sacrifice. It's the woman of course who pays the price. I won't say much about the other two pieces on Saturday night's program except that I loved the liquid, extended movement in Ashley Page's Guide to Strange Places, a piece for large ensemble set to music by John Adams, but loathed the campiness of Mark Morris' silly ode to soldierly camaraderie, Beaux, set, improbably, to a sparkling harpsichord concerto by Bohuslav Martinu.
4. Opera-tions – Three One-Act Operas at Stanford: Meta-opera reigned this weekend with Stanford Opera Workshop's  latest trio of works devoted to the commissioning, casting and opening night performance of an opera. I was very impressed with the pit orchestra of adept student musicians who played works by Mozart, Henry Cowell and Giancarlo Aquilanti with equal panache and sensitivity under professor Marie-Louise Catsalis' baton. The singing and acting on stage was less consistent, though there were one or two promising performers in the mix. What worked well was the combination of Cowell's rarely performed opera The Commission about a composer's struggle to obtain a decent, paying commission in a world where connections and commerce matter more than art, and Stanford music professor Aquilanti's new work and the final part of the performance, First Night at the Opera, in which different corners of the opera-going public turn up to watch the opening night of Cowell's opera, whose genesis we had just seen evolve in the previous opera. Less convincing was the inclusion of The Soap Opera, a hackneyed adaptation of Mozart's Der Schauspieldirektor. The piece, with a new book by Derek Miller, revolves a cheesy face-off between battling divas. I kind of wish the Opera Workshop had put all of its energy into developing the second and third piece of the evening and left the first out of it. A duo of meta-theatrical pieces would have still made for a complete and more polished experience.