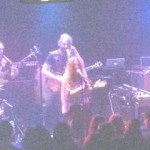 I just I interviewed Charlotte Church for VoiceBox and she impressed me greatly.
Church shot to fame in the mid-1990s as a pre-teen for her classically-trained soprano voice which sounded impressively mature for her years. She sold millions of records. In more recent times, the vocalist has reinvented herself as a television talk show host and now as a writer and performer of brooding indie pop songs.
At the age of 27, Church has lived richly. She's tasted commercial success, turned her back on it, given birth to two children, survived drubbings about her physical appearance, love-life and outspoken nature from the British tabloid press, and keeps moving forwards, reinventing herself as an artist while maintaining a strong basis in her classical music training.
It's not just that I respect Church for her career. She's also a level-headed, warm-hearted and intelligent person, with a deep understanding of her voice and curiosity about the world around her. When we spoke in her hotel room for an hour or so on Thursday for a VoiceBox show that will launch in a few weeks' time, Church was suffering from a bad cold and exhaustion from being on the road. Nevertheless, old pro that she is, the singer gave me a great interview.
And then, at around 11pm at one of San Francisco's underground nightspots, The Rickshaw Stop, Church made her San Francisco debut. The artist performed a fantastic set with her band of songs from her new album, One and Two. Her clear articulation, chest-thumping tone and ability to stride massive, heart-stopping intervals with perfect intonation despite feeling under the weather, all belie her years of classical training. Every now and again, she stop to chug down water or spoonfuls of manuka honey (her favorite cold remedy) from a glass jar.
When she was small, Church was appreciated by millions of people basically for being a freak — a child with a fancy-sounding woman's voice.  These days, she's less easily marketable. She has to find a way to make the sound she wants to make in the deep and wide pool of intelligent, 20-something, female indy rock artists. It's a quieter journey this time, with less media attention and fewer adoring fans. She was the opening act on Thursday night for a couple of trendy British acts – Rudimental and Kidnap Kid. From the balcony where I was watching the stage, I heard one audience member yell "We love you, Charlotte!" Slightly later, someone else shrieked, "Charlotte's got big tits!"
It was a committed, powerful performance. I'd much rather hear the Charlotte Church of today, doing the thing she loves with tons of heart to back it up, than the performing monkey of the 1990s singing two lines of the "Pie Jesu" from Andrew Lloyd Webber's Requiem surrounded by a TV audience and tons of artificial reverb.