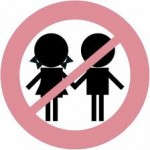 Although arts institutions would never go as far as to ban small children from attending exhibitions, a trip to the De Young Museum today with my friend Laetitia and her toddler, Gabriel, made me believe that some museums might as well put up a sign saying "no kids allowed."
The main problem is that parents aren't permitted to take strollers into the galleries. So Gabriel walked around on his own, got under people's feet and excited the ire of several docents when he tried to eat Cheerios and climb under a barrier separating one of the art works from the hoards of visitors. When his mother tried to carry him around, Gabriel squirmed and moaned and eventually made such a racket that we had to take him out into Golden Gate Park and go for a walk.
I don't really understand why strollers are forbidden. It's not like they take up much room. And with the low lights and masses of people visiting the museums, having a stroller makes it much easier for parents to enjoy the art works while keeping their kids safe.