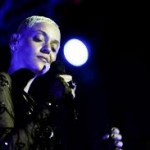 I just experienced an amazing weekend of song.
It all kicked off last Thursday when I attended The Little Opera Company's dress rehearsal at The Alcove Theatre in downtown San Francisco. The Little Opera Company, which was the focus of a VoiceBox episode last week, creates newly composed opera productions from scratch with kids aged 6 – 10. I watched 14 children run through Candyland, an opera they wrote, designed and performed in with the help of a few adult mentors. The kids are incredibly creative. The storyline and songs in the short stage works they came up with are full of vigor. However, the biggest challenge they face is singing loudly enough so that the audience can hear what they're singing about. The coaches tried to get the children to sing together for the sake of volume and when they managed to do it, every word was clear and the tone was strong and rather lovely. But more often than not, the group forgot to sing as one, leaving two or three little cast members fending for themselves with their tiny voices that just didn't carry beyond the front row.
The weekend continued with contrasting performances given by the recently formed 14-member choral ensemble in which I sing — Convivium — and the polished Clerestory men's vocal ensemble. It was surreal going from singing devout, somber Lenten works by Lauridsen, Poulence, MacMillan and other composers as part of an Episcopalian church service where no one clapped, to hearing Clerestory's Bacchanalia program in the 44 Page Street concert hall in which the amazing vocal ensemble perform rotund, mostly jocular works about wine, women and song to whoops of delight and thunderous applause. Audience members ate and drank throughout the concert, which featured Purcell's "Down with Bacchus" and "Hoy Comamos y Bebamos" by Encinas among other booze-related musical fare. I loved the way in which my day transitioned from the sacred to the profane. I can't speak for Convivium's performance as I was in it. I've no idea if we were any good. We got through some tough repertoire and we're not doing too badly for a new ensemble, I guess. I wouldn't mind getting away from the churchy stuff for a bit though. Clerestory, one of the Bay Area's best professional ensembles, was sublime, as usual, however. I enjoyed every moment of the group's performance.
On Sunday, I roped my friend, the amazing multi-instrumentalist, vocalist and actress, Beth Wilmurt, into visiting the Aloha Warehouse in San Francisco's Japan Town into helping me buy a ukelele. We meandered back to my place, where she taught me four chords and persuaded me to join her for a Studio NPG Music Party, a monthly ad hoc singalong gathering which Beth sometimes attends. I should have stayed home to do some work, but  I couldn't resist exploring this corner of San Francisco cultural life which I had never heard about before. So, it being St Patrick's Day, we prepared a version of "Molly Malone" to perform at the gathering, which takes place in Potrero Hill in an apartment above the Thick House Theatre. Studio NPG, short for "New Performance Group," hosts singing parties and other cultural exchange-oriented events. The focus of the organization's monthly singalongs is show tunes, but this weekend quite a lot of Irish fare was sung. Anyone can turn up and join in on a grouyp number or perform something for others to listen to, with the aid of pianist Barry Lloyd. The $5 entry fee is a bargain: A fun, community music-making experience accompanied by a great pianist, a glass of wine and snacks are all included in the price. The repertoire yesterday included "I Got Rhythm," "Consider Yourself" (from Oliver!) and the Beth-Chloe rendition of "Molly Malone," which went down quite well.
The weekend ended with a visit to the SF Jazz Center in my neighborhood to hear one of my very favorite vocalists perform the last of her four-night residency with SFJAZZ, Mariza. The Portuguese fadista was on top form yesterday evening. She looked like an expensive bottle of perfume or absinthe with her figure-swooping, floor-length black and green dress and perfectly smooth bottle-blonde-capped head. And that voice! I spent quite a bit of time during the concert trying to figure out how to put its quality into words. The obvious thing to say about Mariza's way of singing is that it sounds like a fine bottle of Porto — rich and deep. A sip of it makes you drunk. But that's a cliche and there's more danger to her vocal abilities than that. Mariza's voice is a bit like stepping inside the dripping pelt of a freshly-killed fox. But that's not quite right either. Dead animals capture the danger, but not the velvety appeal of the way she sings. In any case, I was, like everyone else in the room, licking the palm of the fado queen's hand. She even had us singing the refrain of her beautiful song, "Rosa Branca," in Portuguese. I'm still agog.