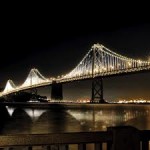 Depending on how you look at it, I am either a very bad or a very busy arts journalist.
I've been keeping my eye on The Bay Lights — a massive light installation that spans the 1.8 mile long Bay Bridge by light installation artist Leo Villareal — for months and have very excited about the project.
It opened last night. And I wasn't there.
An evening meeting at Stanford overran and then it started pouring with rain. By the time I got back to San Francisco, I was exhausted from the difficult drive. My car had almost run out of gas and I decided it was best to skip the festivities.
Early this morning, I ran from Fort Mason to The Ferry Building and back, hoping to catch the lights in their post-opening-night glow. But by the time I got down to the water, dawn had arrived and the bridge was back to its unlit self. (The lights are turned off during the day time.)
I guess I don't need to panic about missing out. The lights will be going on every night for at least the next two years. And there's plenty of information and coverage to be found of the opening all over the Web. Still, it does feel odd not to have been there last night and to have failed to catch the lights in a quieter frame of mind this morning. Kind of like being a Bay Area sailing enthusiast and flaking on The Americas Cup.
From the coverage I've explored today, it looks like the opening went very well, in spite of the rain. Between the beautiful orange of the Golden Gate Bridge and the sparkling white lights of the Bay Bridge, this part of the world has just become an even more vibrant, colorful place.