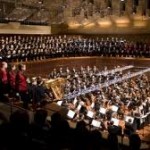 An eminent music critic whom I had the pleasure of taking tea with a few days ago thinks there are too many choirs in his home town. "There just isn't a large enough audience to go round" he said.
I've heard this complaint from a number of people over the years. But I don't think you can ever have too much of a good thing; there are certainly too many wars in the world. Not too many choirs.
However, my friend's assertion got me thinking about how certain kinds of art might lend themselves just as — if not more — engagingly to private participation rather than public performance.
Undoubtedly, there will always be a demand for some high-level vocal ensembles like The San Francisco Symphony Chorus, whose luminescent performance of Poulenc's Stabat Mater I was lucky enough to catch at Davies Symphony Hall over the weekend in tandem with a polished take on the bombastic yet less inspiring Te Deum by Berlioz.
But there are countless other groups out there for whom attracting audiences shouldn't always be the end goal.
Another friend of mine, who sings with the San Francisco Symphony Chorus, has repeatedly asserted that choral music is much more fun for the people doing the singing than for the people out there listening.
I used to think he was being facetious. But now I think he has a point.
Group singing is one of the most rewarding activities out there and the beauty of it is that you can do it at all levels and sing all kinds of music. And when it comes down to it that should be enough.
Performing in front of a (paying) audience is fine, but does it really add to the essential pleasure and point of singing? It certainly gives choir members a goal towards which to drive. Yet perhaps there's room for driving towards the goal of an internal performance just for the group's members rather than competing with 30 other choirs for audiences on any given weekend.
OK, so maybe the performance could be videoed and put out into the world on YouTube or as a digital audio download if sharing the work is a sine qua non of an ensemble's existence. All I'm saying is that drafty churches and uncomfortable pews patchily peopled with octogenarians wearing blue rinses need not habitually be part of the culture.
If choirs could change the way they view themselves, when occasional brilliant performances do take place, I guarantee that there will always be enough of an audience to go round.