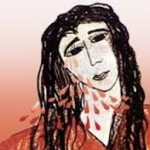 Melodrama was once a staple of live performance. Then it went out of style. Now it seems to be coming back in again, with theatre-makers experimenting with it in different ways.
This weekend I've attended two productions of works, both coincidentally at San Francisco's Yerba Buena Center for the Arts, which take contrasting approaches to dealing with melodrama: Opera Parallele's take on Osvaldo Golijov and David Henry Hwang's 2003 chamber opera Ainadamar, and The Wooster Group / New York City Players' song-tinged adaptation of three of Eugene O'Neill's Glencairn Plays written between 1914 and 1918 — Moon of the Caribbees, Bound East for Cardiff and The Long Voyage Home.
The Wooster Group and The New York City Players deal with the large amount of sturm und drang in O'Neill's early short plays by going for a very unemotional, "straight-toned" approach to the dialogue. The characters speak mostly in monotone, regardless of whether they are in celebratory of funerary moods. The dissonance between the heavy-handed plots / high-stakes interpersonal dynamics and the "flatness" of the way in which the action is communicated is very strange and disquieting.
Contrastingly, the creators of Ainadamar run full tilt at the dramatic story about the relationship between the famous exiled Catalan stage actress Margarita Xirgu and the murdered poet Federico Garcia Lorca, milking the histrionics for all they are worth. The heart-pumping rhythms of Golijov's music, Hwang's unabashedly tragic lyrics ("How sad it was in Granada / The stones began to cry") and the pungent imagery of Lorca being led to his death alongside two other men like Christ's crucifixion scene, combine to overwhelm the senses.
Which approach is better? I kind of like both of them. But getting the melodramatic dynamic right is very tricky. There are moments in both productions where the action spills into kitsch.