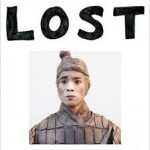 Figuring out how to combine different media into a compelling arts communications campaign isn't easy. Most organizations settle for texts with accompanying video / audio clips and photos. Maybe a little tweeting is encouraged. Very little thought is given to what media best suits a particular message and how to create something that uses media in an integrated and compelling way.
That's why I'm extremely impressed with the San Francisco Asian Art Museum's current campaign around its upcoming Terracotta Warriors exhibition. It combines video, text, performance art, interactive mapping, gameplay and social media to create an experience that's fun and deeply immersive.
The museum's project centers on a conceit concerning one of the famous Terracotta Warriors who's lost his way in transit between China and San Francisco. The befuddled soldier is now wandering around The Bay Area and needs help with finding his battalion again.
A recent missive I received in my inbox explained the situation with playful gravitas:
The Asian Art Museum needs your help. One of our terracotta warriors is lost, and we have to find him before China's Terracotta Warriors: The First Emperor's Legacy opens on February 22. What we know is this: a small group of terracotta warriors journeyed from their home in China to the museum—but somewhere along the way, this one took a wrong turn and is now missing. He's 2,112 years old, about 5' 5" tall, mud-colored, and doesn't speak English. If you spot him, please post a photo on Twitter, Instagram, or our Facebook wall and tag it with #LOSTWARRIOR so we can track his whereabouts on this map. Even if you don't have photos, share and tag your tips and leads with #LOSTWARRIOR. 
The Asian Art Museum campaign also includes fun, short videos by a variety of local figureheads such as the museum's director Jay Xu, San Francisco Giants' player Sergio Romo and restauranteur Martin Yan urging people to join in the search for the lost warrior.
I love this campaign because of the way it seamlessly integrates a variety of media in an organic way that doesn't seem clunky at all. The maps work really well with the social media and performance art side of the project. And the videos add an extra dimension to the story as well as a touch of celebrity endorsement, which will doubtless help the museum to sell tickets.
I also appreciate the thought that there's a guy dressed up in Terracotta Warrior drag wandering around the Bay Area having his photo taken by passersby. It's a wonderfully offbeat way to merge experimental performance with publicity stunt.  And there's something quite interesting, metaphorically-speaking, in the notion of a soldier that's wandered away from his army  — it contrasts cliched views about Californian individualism with Chinese groupthink.
It's interesting to me that the Asian Art Museum would devote so much creative energy (and resources, I imagine) to organizing a publicity campaign of this level of intricacy, when an exhibition as high profile as this one is most likely an easier sell than many of the institution's other offerings. But perhaps that's precisely why the museum feels able to invest so much in this endeavor.
In any case, I am looking forward to keeping one eye on the interactive map and another on the streets of San Francisco, panning the horizon smartphone at the ready for a short Asian dude in late third century BC Chinese military garb.