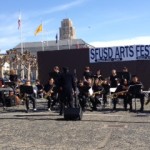 There wasn't much of an audience outside San Francisco's City Hall at 11am yesterday when the roughly 20 teen musicians from Herbert Hoover Middle School's jazz band struck up the first notes of a swinging jazz standard.
But by the time the assorted wind, guitar, drum, keyboard and other instrumentalists were done, the crowd had mushroomed.
I stayed for a while watching and listening with a smile on my face in the mid-city sunshine as different groups of local school children traipsed in a very organized fashion across the street from City Hall, where they had been quietly sitting on the steps waiting to sing, play instruments and dance as part of this year's San Francisco Unified School District Arts Festival.
In addition to the jazz band, whose players all took themselves quite seriously, there was a lively group of fourth graders from Longfellow Elementary who danced proto-hip-hop style to Jennifer Lopez's "On the Floor." These kids seemed to be having more fun than the musicians and their enjoyment of the experience was infectious. The crowd burst into rapturous applause and whoops and cries of "One more!"
The dancing was followed up by a marching band of mostly older students from Sala Burton School. They played Michael Jackson's "Thriller" in a determined by proficient manner. Again, though, the musicians seemed to take themselves very seriously. They could learn a thing or two from a field trip to the Stanford campus to watch the antics of the band that plays at the university's sports events. Stanford goes a little too far, but their spirit is inspirational.
Anyway, the main point I want to make about all of this, is that it's great to see kids getting out there and doing creative things in groups in public. The quality doesn't matter all that much. It's the participation that's key. Having fun is also important — and those fourth graders from Longfellow showed us how.
PS For anyone who thinks Silicon Valley has no soul, you're wrong. Go to San Jose this Friday evening to check out South FIRST FRIDAYS. Running from 7-11pm, SFF is a self-guided art walk through galleries, museums, and independent creative businesses featuring exhibitions and special performances. San Jose Stage Company is presenting synth pop by Containher and the Star People; there are artists talks and interactive instalations at Movimiento de Arte y Cultura Latino Americana; Phantom Galleries and Cinequest are doing a live art event connected to their annual Cinequest 23 Film Festival; there's a Miles Davis tribute presented by San Jose Jazz at Pagoda Restaurant and Bamboo Lounge…and a bunch of other cool-sounding stuff. Info here.