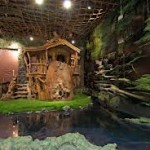 On Saturday, I experienced two very different kinds of visual art institutions devoted to Asian culture. One was well-attended and stimulating. The other was not, but it raised questions anyway.
The first was the San Francisco Asian Art Museum, which is currently displaying a high profile, globe-trotting Terracotta Warriors show. The place was packed. I had never seen an example of funerary art so old or so enormous in scale. The exhibition does an excellent job of conveying the grandeur of the First Emperor of China's wealth, ego and ambition. It was quite a relief, though, to head into the corners of the permanent collection. The object that caught my attention most powerfully on this visit was a little rectangular, gold incense container dating from the late 18th or early 19th century. It was made with lacquered wood coated in metallic powder. The top was inlaid with three mother-of-pearl cart wheels bobbing in water. Neither particularly old nor ostentatious, this tiny lacquered box nevertheless spoke to me. Perhaps the delight came from the way in which it contrasted with the grandiosity and severity of the massive and ancient Terracotta forces on display downstairs.
Things then took a surreal turn when I walked into downtown San Francisco and decided to stop in and check out a building on Market Street that has the words "International Art Museum of America" in gold leaf outside its imposing white facade. I've been intrigued by this institution for the last couple of years since it opened. I'd heard that it held a collection of Asian art. But the place just looks so incongruous on that particular stretch of dingy urban thoroughfare. Plus, the window display (pictured above), with its tangled trees, fake moss, water feature and rustic shed, resembles a scene from Middle Earth. And an organization that calls itself "International Art Museum of America" must have something to show for itself. Or hide. I wasn't sure which and I had to at least take a peak. Whenever I've walked by the place, it's either been shut or I've been in a hurry. But on Saturday I had time to kill. I was intrigued to discover that the museum no longer charges an $8 entry fee. The guard at the door waved me upstairs to the exhibition hall. She said that entry had been free for around a year. When I alighted on the well-lit upper concourse, I was the only person about. There wasn't a single docent or other member of the public. The IAMA seems to exist for one main purpose: to showcase the artwork of H H Dorje Chang Buddha III. I can't seem to find out much about the artist. There seems to be some discussion on online chat rooms about whether he is a real or fake incarnation of the buddha. A cursory search didn't reveal anything about his penchant for painting rural landscapes and making lumpy sculptures that look like someone barfed on top of a huge pile of melted wax. The IAMA has to be one of the strangest museums I've ever visited in my life. I wonder how it's funded and for how much longer it will continue to exist?