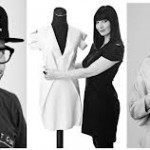 Some quick thoughts about a few cultural activities I got up to this weekend…
1)Liz Caruana is a fabulous art and commercial photographer in the Bay Area. Friday night saw the launch of Caruana's new collection of photographs in book and gallery exhibition form at Carte Blanche Gallery in The Mission. The series, The Bay: Creators of Style, lis at the intersection of Caruana's work as an art and commercial photographer in its depiction of portraits of  Bay Area fashion designers. The images are glossy, vivid and unabashedly pose-y. It's hard to tell whether they're advertising or art in some ways. I think they kind of succeed as both.
2) Eddie Izzard was in town for a few days working on some new material at Z Space. His management asked critics to refrain from reviewing the British comedian's work-in-progress which I think is fair enough and I am simply happy to have had a chance to experience Izzard's meandering-sharp sense of humor in such an intimate setting. What I will say, though, is that I wish I had known that Izzard was doing a set in French while in town. As a French speaker, I would have loved to have been there on Thursday night with the Francophone audience of 150 people. But I didn't find out about it until the day I was already scheduled to see Izzard perform, the Friday, so sadly missed out. I gather that the comedian only took up French fairly recently, perhaps two or three years ago. To be able to pull off 90 minutes of standup comedy in a language which is new to you and to even begin to know what people in another culture would find funny is a remarkable feat. It's almost beyond belief really. Then again, doing exceptionally challenging things is becoming a bit of a habit for Izzard. In 2009, he ran 43 marathons in 51 days for charity in spite of having no prior history of long-distance running. I would love to interview Izzard about his polyglotal adventures in comedy and I gather he's about to start a big world tour with lots of French dates in it in the coming months. Perhaps I'll have to catch him in a few places. Finally, I heard a rumor that Izzard might also be hatching a plan to perform standup in Japanese and German. Crikey.
3) With its new production of Waiting for Godot, The Marin Theatre Company in Mill Valley is taking a slightly different approach to the standard post-show "talk back" formula that so many theatres practice across the land. According to the program notes, these new-format "Points of View Q&A" sessions are supposed to begin by inviting "two guests with different points of view to discuss what they thought of the play." I was invited to attend the matinee performance yesterday and serve as one of these guests. I sat up on stage with director Jasson Minadakis, dramaturg, Margot Melcon, and assistant director, Logan Ellis. So rather than there being two guests, there were three company insiders and me. We had a nice enough conversation about the play, but there were no opposing points of view to be had really. When I answered the first question, I was met by an "I completely agree!" from the assistant director. I'd be curious to see if the effect is different when there actually are two guests with different viewpoints involved. I should say, however, that the Marin Theatre's production is quite well done. Minadakis doesn't play it for laughs, really, though the physical comedy between Mark Anderson Phillips' sulky Estragon and Mark Bedard's thoughtful, optimistic Vladimir blossoms in act two. What I loved about this production is the way in which Didi and Gogo seem to be so close to each other. Their connection is deeply human and borne not simply out of need but quite a lot of love and respect. I found the whole thing to be quite life-affirming. And I don't get to say that too often about productions of Beckett plays.