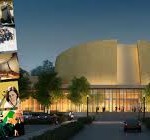 Stanford's new Bing Concert Hall opened on Friday night with a concert emceed by Anna Deavere Smith and featuring the San Francisco Symphony, the St. Lawrence String Quartet, Frederica von Stade and various university ensembles.
The best thing about the venue is the sound. The acoustics are clean yet limpid. The opening night concert successfully showcased some of the different formats that might be heard in the space from lyrical cor anglais solos in Jonathan Berger's specially commissioned work, A Place of Concert, to the St. Lawrence Quartet playing Haydn's String Quartet in F Major Op 77 No 2, to  the San Francisco Symphony  performing John Adams' A Short Ride in a Fast Machine. And the electronic fanfare that started off the show by Stanford Professor Chris Chafe made great use of the surround sound speaker system.
I wonder what a jazz big band or rock group would sound like in the space? Shame we couldn't find out on Friday night, which was exclusively focused on western "art" music.
The second best thing about the Bing is its size and shape. The vineyard-style auditorium feels both spacious and intimate. And it doesn't look like there's a bad seat in the house.
So the University has managed to get the most fundamental aspects of the concert hall experience right. What I'm less crazy about is the way the management has handled some of the more peripheral yet important details that can make or break a concert going experience for people.
The lobby is vast (it feels like an airport) and yet there are very few places to sit down and have a real conversation — though scattered benches allow you to sit in a row which is less convivial for cheater. There are and only a few tiny tables upon which to balance one or two glasses of champagne. And I really hope the management improves the food offerings. $12 for a measly and not very appetizing cheese plate seems a bit excessive to me.
One more thing: I spent some time on Friday night backstage with the radio crew from KDFC. The facilities seem great, but clearly there are still a few technical kinks to be worked out. The ISDN line that was needed to enable KDFC to do a live broadcast of the opening concert wasn't working until right before the event started. And then it went out after six minutes leaving radio audiences without a live feed. The quick-witted radio people had to switch to their emergency Plan B of using non-live music from its San Francisco studio. Disaster.