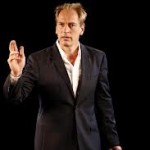 The actor Julian Sands began performing A Celebration of Harold Pinter, a tribute to the famous British playwright, actor and screenwriter, in August 2011  at the Edinburgh Fringe Festival.
The 90 minute long solo recital of Pinter's poetry and other ephemera intertwined with Sands' own reminiscences of collaborating with Pinter over the years,  finally made its way to San Francisco's Herbst Theatre for a one night stand yesterday evening under the auspices of City Arts and Lectures.
The combination of the subject matter and the fact that the show is directed by John Malkovich brought crowds to the venue. I imagine that for some part of the audience who grew up in the 1980s and 1990s and like me remember Sands as George Emerson in the movie version of A Room With A View opposite Helena Bonham Carter, the actor himself was a major draw to last night's event. I had never seen Sands perform on stage before and was curious to see what he could do.
I left feeling somewhat disappointed. Sands, though quite commanding in stature and still raffishly handsome in his 50s, is physically stiff. There's not much mobility in his back and he stands in one spot for the entire show with his torso pitched slightly forward. Sands has a lovely, round voice but his very declamatory style of delivery gets tiring after a while. And he uses his right hand for emphasis way too much. The actor basically spends the entire show looking like he's trying to hail a cab.
Yet as the evening went on, Sands loosened up and became more warm and slightly more loose. I enjoyed his thoughts about the difference between a "beat," "pause" and "silence" in Pinter's plays. And he took a wonderfully loving yet playful view on his subject — gleefully imitating Pinter's barking voice and poking fun at his intolerant side.
The other thing that struck me about this presentation, though, is how bad so much of Pinter's poetry is. It's probably heretical of me to say this, but a lot of it sounds like doggerel. I leave you with one example of a poem that Sands read out loud:
Death May Be Ageing
Death may be ageing
But he still has clout
But death disarms you
With his limpid light
And he's so crafty
That you don't know at all
Where he awaits you
To seduce your will
And to strip you naked
As you dress to kill
But death permits you
To arrange your hours
While he sucks the honey
From your lovely flowers
Harold Pinter
April 2005