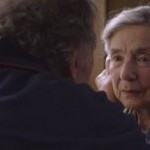 The staff at The Clay movie theatre in San Francisco say that people are walking out of Michael Haneke's critically acclaimed and Oscar nominated film, Amour, in droves.
Amour is not a horror movie, and yet it's perhaps tougher to watch than any slasher flick because it cuts so close to the bone. It's impossible to watch this story about a educated, elderly French couple's journey towards the end of life complete with strokes, rude nurses and adult diapers without thinking, "this is going to happen to me or to someone very close to me someday." Not "this could happen," but, "this, very likely, will happen."
My friend Sarah who attended the film with me last night cried silently throughout. She wouldn't accept a ride home. She needed the cold night air and a walk. I understood and would have enjoyed a stroll myself to decompress after Haneke's relentlessly glum portrayal of the inevitable process of human putrefaction. It's two hours of slowly and painfully watching two people shuffle off this mortal coil.
Strangely though, my reaction was quite different to Sarah's. I left the theatre feeling discombobulated but not depressed. For one thing, the scenario is unavoidable. So I found Haneke's movie to be rather life-affirming. It made me tell myself to make the most of each day. For another, the troubles facing the couple Georges and Anne in the movie and their daughter Eva (sensitively portrayed by the formidable actors Jean-Louis Trintignant, Emmanuelle Riva and Isabelle Huppert respectively) make the challenges I face each day in my life seem utterly trivial. In other words, the film provides an excellent source of perspective on one's own existence.

One last point of reflection about this movie, which I still can't decide if I liked or not: It reminds me of Samuel Beckett's Endgame , only with less subtlety. The wheelchair-bound Anne and her stiff-legged but mobile husband Georges could be reincarnations of Hamm and Clov, only with a great deal more affection between them. Haneke's characters share the interdependence of Beckett's. Plus the bleakness of their lives is edged with as much sweetness as it is with sleep.