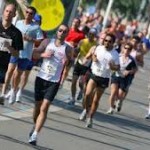 Long before Kickstarter and other social media-based crowd source funding platforms became the backbone of fundraising endeavors in the western world there were fun runs and charity cycling events.
In this tried and true funding model, which continues to raise millions for all kinds of worthy causes today, people support charities they believe in by persuading their networks of friends, family members, colleagues and other acquaintances to sponsor their bids to run a marathon / cycle a hundred miles / complete a triathlon etc etc.
Now, a group of entrepreneurial San Francisco vocal music nuts has set up a new initiative which takes the charity sports event model and applies it to choral singing.
Sing for America, which is based in San Francisco, is advertised as "a new idea for those who would rather not walk, run, bike, or otherwise exercise for their charity!"
Of course, we all know that singing is a pretty athletic activity. Plus, it's not like other genuinely non-athletic pastimes, like mustache growing, haven't spawned their own charitable donation schemes. (Check out the Movember movement in this regard.) Nevertheless, the concept is an interesting one.
Sing for America aims to provide online fundraising tools to individuals and modest sized arts organizations to raise money for a charity of their choice by rehearsing for and singing in a concert.
In the latest iteration of the project, singers are being asked to train once a week every week for a choral concert that's happening in this instance in April. The participants, who are expected to be competent if not professional vocalists, sign up for a Sing for America personal web page in order to solicit funds for a charity of their choice. They are expected to use social networking and email to reach out to their friends and acquaintances.
According to vocalist Erich Wolf Stratmann, who heads up the Sing for America Foundation, the concert that the organization staged last year (its first ever) raised a few thousand dollars in funds for 47 different non-profit causes.
Organizations that received funding in the first round include
42nd Street Moon
, a producer of vintage musical theatre works in the Bay Area, and the
American Heart Association
. Or, to quote a more specific example provided by Stratmann, a representative from
American Bach Soloists
enlisted a couple of singers to join in the choir and walked away with a $1000 return for the Bay Area-based early music organization.
Getting the concept off the ground has not been easy. Recruiting singers is a challenge. After all, to have a decent choir you need to have a critical mass of people; whereas it doesn't really matter how many people might train to run a marathon or grow a mustache as these are essentially solo endeavors. Last year's Sing for America chorus has more than 60 vocalists in it.
Also, for people who like to sing and do it regularly, "training" to sing in a choral concert isn't exactly a Herculean endeavor by and large, unless the music is extremely difficult. And it doesn't seem at least from
this piece of footage
from last year's concert that this is the case. Training to run a marathon on the other hand is a big stretch for many people, which is what makes it so appealing to supporters. Growing a mustache for charity isn't that hard, but it's the comedy value that brings in the bucks. There's typically not that much comedy in a choral concert, alas.
And then there's the issue of obtaining buy-in from the local singing community. "Our biggest obstacles are the "gatekeepers" of various church and specialty choirs/choruses," wrote Stratmann to me in an email. "They have their own one-on-one fundraisers and do not recognize this as a means for their choristers to reach out on the internet to more than just ticket buyers for their concerts…..a supplemental and complimentary vehicle."
I'll be curious to see how things unfold for Sing for America. To sign up, click
here
.