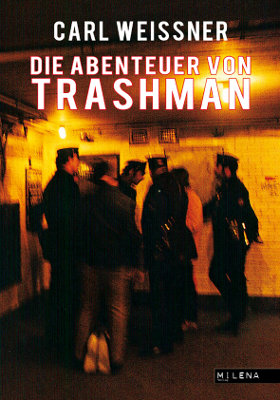 The "vulgo:cynicism" of Carl Weissner's Die Abenteuer von Trashman — his term for the humor of his latest book — was already on display in last year's Manhattan Muffdiver.
Both books, from Vienna-based Milena Verlag, are written in German. Although I read German desperately, like a beachcomber sifting sand on a bad day, even I could make out the tone.

Vulgo-cynicism certainly describes the tone of the two books he wrote in English. I can read them, easily: The Braille Film, a Burroughsian cut-up text published decades ago in San Francisco by Nova Broadcast Press (aka Yours Truly), and Death in Paris, published online in 2009 by RealityStudio, which I think of as stripped-down Chandler with value-added vulgarity.

The Adventures of Trashman is Carl's New York night journal of 1968, a year he spent hanging out mainly on the Lower East Side with poets and artists and other riffraff. He messages in an email that Trashman "begins with a fantasy — imagine, a Lambert Hendricks Ross Hotel on First Avenue. Hyrch! — and ends with the god's honest troof. No, it doesn't: The letter to Burroughs is ALSO pure fiction. What the hell, I LIKE fiction."
To promote Manhattan Muffdiver, he did readings and went on the TV circuit in Austria and in Germany. This time, he says, "the plan is to do all my readings in Austria and Switzerland, and skip the federal republic in toto. North of the Danube nobody understands my type of humor (vulgo:cynicism) and en plus, the fatherland is overrun by hacks who are fighting tooth and claw over reading venues that will seat 12. In Switzerland you get your own hash dealer. Selah."
Even so, south of the Danube is no picnic. You don't get everything you want. Initially, he hoped to have this babe on the front of Trashman.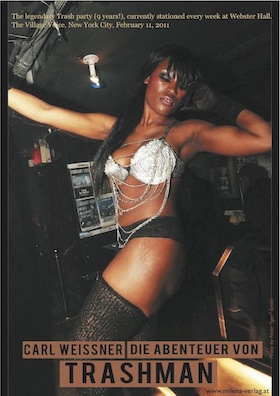 But "the publisher's sales force nixed the cover, claiming it wouldn't be able to unload a single copy in constipated Austrian book stores," he says. "I could, of course, run off a thousand copies and sell them out of my greatcoat in local cathouses."
It turns out that I figure in certain Trashman passages, including a factually accurate description of his departure from New York:
Die Strecke NYC-Frisco reisst mich nicht gross rein. Es gibt Autos, die uberfuhrt werden mussen. Jan ruft zwei Agenturen an und findet etwas Passendes:
"Chevy Stationwagon, Haustrat hinten drin, hundert Dollar Kaution, sechs tage Zeit." Ich vergesse zu erwahnen, dass ich nur den Motorrad-Fuhrerschein habe.
And:
Am frühen Morgen holen wir am Battery Park den Wagen und verschwinden durch den Holland Tunnel. Wir werden uns am Steuer abwechseln, und ich werde die Halfte der 5300 Kilometer ohne Fuhrerschein quer durch den Kontinent fahren, aber der Leichtsinn der Jugend ist ja bekannt.
In other words, near Battery Park we picked up a Chevy stationwagon, which I'd found through a driveaway agency, and disappeared into the Holland Tunnel. The stationwagon was to be delivered to San Francisco within six days. We would take turns at the wheel. But, as Carl writes, he forgot to mention that he only had a motorcycle license.
In fact, I would discover somewhere in the Midwest that he not only didn't have an automobile license, he didn't know how to drive. Or so it seemed to me, because the first time he took over the wheel and tried to pass a car he nearly clipped a fender. The next time he tried it he nearly sideswiped the car. And so it went for his half of 3,200 miles.
That we actually made it across the country in one piece was something of a miracle. Some details of that trip appeared not long afterward in a cut-up text I published in VDRSVP in 1969.
"… der Leichtsinn der Jugend …" (the wrecklessness of youth), indeed.